Match 1 between Richelieu Eagles and Karnataka at United...
20 hours ago
Match 2 between Lions XI and Noor CM Academy at Sulaibiya...
1 day ago
Match 1 between KRM Panthers and Tally CC at Sulaibiya...
1 day ago
In a thrilling Indian Premier League (IPL 2023) final, the...
4 days ago
It's the summit clash of Tata IPL 2023 The four-time...
4 days ago
The Indian Premier League...
1 week ago
Mumbai Indians is one of the...
1 month ago
Fans always show a keen interest to know...
2 months ago
Cricketers in India are no less than a...
2 months ago
With a brilliant winning momentum, the Mumbai Indians (MI) are ready to host the Punjab Kings (PBKS) in the 31st game of the Indian Premier League (IPL 2023) season on 22 April, 2023 (Saturday) at the Wankhede Stadium in Mumbai Things have panned...
1 month ago
Gaming laptops, PCs, and consoles are...
2 days ago
Poker is a popular card game in the global...
3 days ago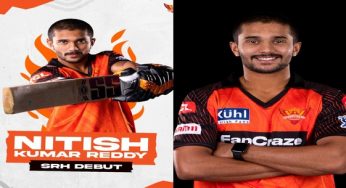 It is a huge occasion for the 19-year-old...
2 weeks ago
It is a huge moment for the Sirohi-born...
3 weeks ago
It is a big occasion for the Jammu &...
4 weeks ago
22-year-old left-arm spinner Raghav Goyal is...
4 weeks ago
It is a massive occasion for the...
4 weeks ago
The Kolkata Knight Riders (KKR) are playing...
1 month ago
Cricket News, IPL 2023 Updates, Live Score
Cricket is the most followed sport in India and part of it due to the fandom of Indian national cricket team. We strive to reach out to fans engrossed in cricket and give them their daily dose of cricket news, IPL updates and cricket live score at fingertips.
We envision Indiafantasy as a bridge between sports and sports fans. We strive to become a guidebook for fans, with the objective to serve them day in and day out. We cover Fantasy Sports including Fantasy Cricket Tips, Daily Fantasy Football, NBA Live, Baseball, Kabaddi, Hockey, Volleyball, Handball and more with tailor-made content for the fans.
Fantasy Cricket
From Fantasy cricket tips for Dream11 Prediction, IPL 2023, T20 World Cup, World Test Championship and ODI Cricket World Cup, we have got you covered.
We strive to serve Best Fantasy Cricket Tips with Playing XI, Injury updates, team news, pitch report, player stats, cricket live score and fantasy apps to get involved.
You won't miss out on any cricketing action with us, be it One Day Internationals, Test matches, Cricket World Cup, T20 World Cup, IPL, T20 League Cricket or domestic cricket tournaments.
Fantasy Football
We take pride to say that we deliver just the best when it comes to Fantasy Football Tips. The features include Football Lineups, Up-do-date news, Injury Updates, Player Statistics, Team News, League Points Table, X-factor players and New Fantasy Football App to always stay ahead of the competition. Never miss any football update with us, including football leagues and competitions such as English Premier League, La Liga, Serie A, Bundesliga, Ligue 1, ISL, Belarus Premier League, Korean League, UEFA Champions League, UEFA Europa League, the club World Cup, FIFA World Cup, Euro Cup and International Football Freindlies.
There are plenty of sporting events that take place on a regular basis and though you might have your expertise on one particular sport such as cricket, but you may require help in another. We are here for you, bring you tailor-made content just for you. Even if you are a new user and want try to your hand out in IPL Fantasy League, fantasy football or any fantasy sports for that matter.
Today Match Prediction & Betting Tips
We strive to make it as easy for you to Play Fantasy Cricket with Today Match Prediction. The Winning Odds are collected from well renowned bookmakers such as Bwin, skybet and Bet365 to give you likeliness of match results, how it could pan out and also the players likely to rule the roost. Additionally, cricket betting tips can help you win jackpots
Cricketer biography
For those who are curious about the lives of cricket celebrities, cricketers wife, net worth and salary of the players of the past, present, or future, we are your dose of information. Not only you will get to know more about a player's life outside the field, but also the journey and their rise to fame in our cricketer biography section.