What is Sri Lankan throwdown specialist doing at Team India training camp
Updated on: Sep 15, 2018 5:44 pm IST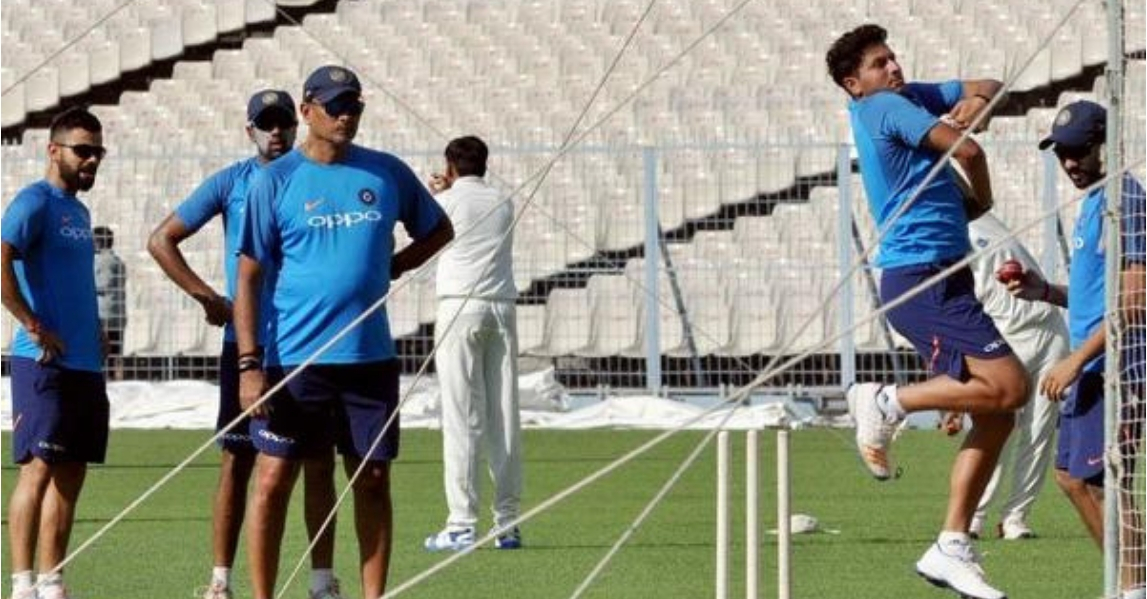 Team India is training hard at the nets ahead of the Asia Cup and India's training sessions are already amusing everyone. First it was the news of Shoaib Malik who shook hands with MS Dhoni and had a chat with him and now it is the presence of Sri Lankan throwdown specialist in India's training camp which is keeping the fans and the analysts interested.

Sri Lankan Nuwan Seneviratne appointed as the Team India's new assistant fielding coach. @BCCI#AsiaCup2018 pic.twitter.com/Qhe8WuMIUQ

— Ibrahim Badees (@IbrahimBadees) September 14, 2018
Nuwan Seneviratne helping Indian batsmen ahead of the Asia Cup
Nuwan Seneviratne who is a popular throwdown specialist has been spotted helping the Indian batsmen during the net sessions.
Mind you, India already have a throwdown specialist in their support staff, Mr. Raghavindraa who was quite popular among India'a legendary batsmen including Sachin Tendulkar and Rahul Dravid. He is also regarded highly by India's current bating lot including Virat Kohli and MS Dhoni.
Then why has BCCI roped in Seneviratne? The answer lies in Senaviratne's bowling arm. He is a left-hand bowler which makes him unique and highly crucial for Team India.
India's current pace bowling unit comprises of primarily right-hand bowlers and hence Indian batsmen are devoid of practice of playing a left-arm bowler. And in the past left-arm bowlers like Mohammad Amir have troubled India a lot.
Hence the team management has decided to invest in a left-arm throwdown specialist to ensure Indian batsmen have plenty of practice of playing left-arm pace bowling.
Who is Seneviratne?
Virat Seneviratne is a Sri Lankan cricketer. He has played two first-class games and is currently working with Team India.
Recently India's chief selector MSK Prasad stated that there are two three slots still open in the team and one among those is the seamer's slot and the selectors are looking for a left-arm option.
Also watch: MS Dhoni, Shoaib Malik share light moments during practice session.
Twitter reactions on Seneviratne's presence at India's nets 
https://twitter.com/Hramblings/status/1040667182470971392

Even if Kohli's absent, there's another Virat, who will be a part of the India squad for the #AsiaCup2018.

Nuwan SeneVIRATne, as a left-arm bowling throwdown specialist.https://t.co/R3AiflaiT5

— Suneer (@suneerchowdhary) September 13, 2018
@BCCI picks Sri Lanka's Nuwan Seneviratne as assistant fielding coach – Top move for tackling Pakistan left seamers in mind for #AsiaCup2018 #NuwanSeneviratne

— 💎ρяιѕм👁️νιєωѕ💎 (@prabhul_p) September 13, 2018
Sri Lankan asiaatant fielding coach Nuwan Seneviratne joins with India cricket team as Assistant Fielding Coach. He will be on a contract of one year with the Indian team beginning from the upcoming Asia Cup 2018 in UAE. #Cricket

— Manjula Basnayake (@BasnayakeM) September 11, 2018