IND vs ENG: Dawid Malan to PLAY India vs England T20 World Cup 2022 Match? Here's the update
Updated on: Nov 7, 2022 6:34 pm IST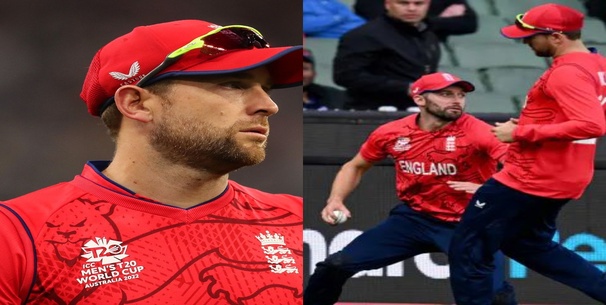 Dawid Malan IND vs ENG: It is now time for the business end of the ICC T20 World Cup 2022 wherein table-toppers from Group 2, India will be locking horns with England in the second semi-final on 10 November, 2022 (Thursday) scheduled to be held at the Adelaide Oval in Adelaide. The Indian team are coming off from an incredible 71-run victory over Zimbabwe during their last league stage game of the season. On the other hand, England defeated Sri Lanka by a convincing margin of 4 wickets in their previous match.
IND vs ENG: Dawid Malan to PLAY India vs England T20 World Cup 2022 Match? Here's the update
During the previous victory against Sri Lanka, England's premier batsman Dawid Malan sustained a groin injury and did not came out to bat in the second innings of the chase. In a recent interview with BBC, English all-rounder Moeen Ali stated that Malan is highly doubtful to be available for selection in the upcoming important clash against India on Thursday. In case Dawid Malan fails to recover in time, England are very much likely to include hard-hitting batsman Philip Salt in the playing XI for their semi-final encounter against India.
"He has been one of our best players for a number of years. I don't know but to be honest with you it is not looking great. He went for scans yesterday and when he arrived, we don't really know much but it is not looking great," Moeen Ali told BBC in an interview.

"England are the underdogs because I think India have been playing fantastically well over the last few years. Even if you look at this competition, I think they have been playing really well, generally. I think we have been a little behind, but hopefully, we can pull it off," Moeen Ali further added.
ENG Playing 11
1. Alex Hales
2. Jos Buttler (C & wk)
3. Dawid Malan/Philip Salt
4. Ben Stokes
5. Liam Livingstone
6. Harry Brook
7. Moeen Ali
8. Sam Curran
9. Chris Woakes
10. Mark Wood
T20 World Cup 2022 Schedule
| | | | | |
| --- | --- | --- | --- | --- |
| Date | Match | Venue | Time | Result |
| 22 October, 2022 | Australia vs New Zealand | Sydney | 12:30 PM IST | New Zealand won by 89 runs |
| 22 October, 2022 | England vs Afghanistan | Perth | 4:30 PM IST | England won by 5 wickets |
| 23 October, 2022 | Sri Lanka vs Ireland | Hobart | 9:30 AM IST | Sri Lanka won by 9 wickets |
| 23 October, 2022 | India vs Pakistan | Melbourne | 1:30 PM IST | India won by 4 wickets |
| 24 October, 2022 | Bangladesh vs Netherlands | Hobart | 9:30 AM IST | Bangladesh won by 9 runs |
| 24 October, 2022 | South Africa vs Zimbabwe | Hobart | 1:30 PM IST | No Result |
| 25 October, 2022 | Australia vs Sri Lanka | Perth | 4:30 PM IST | Australia won by 7 wickets |
| 26 October, 2022 | England vs Ireland | Melbourne | 9:30 AM IST | Ireland won by 5 runs |
| 26 October, 2022 | New Zealand vs Afghanistan | Melbourne | 1:30 PM IST | No result |
| 27 October, 2022 | South Africa vs Bangladesh | Sydney | 8:30 AM IST | South Africa won by 104 runs |
| 27 October, 2022 | India vs Netherlands | Sydney | 12:30 PM IST | India won by 56 runs |
| 27 October, 2022 | Pakistan vs Zimbabwe | Perth | 4:30 PM IST | Zimbabwe won by 1 run |
| 28 October, 2022 | Afghanistan vs Ireland | Melbourne | 9:30 AM IST | No Result |
| 28 October, 2022 | England vs Australia | Melbourne | 1:30 PM IST | No Result |
| 29 October, 2022 | New Zealand vs Sri Lanka | Sydney | 1:30 PM IST | New Zealand won by 65 runs |
| 30 October, 2022 | Bangladesh vs Zimbabwe | Brisbane | 8:30 PM IST | Bangladesh won by 3 runs |
| 30 October, 2022 | Pakistan vs Netherlands | Perth | 12:30 PM IST | Pakistan won by 6 wickets |
| 30 October, 2022 | India vs South Africa | Perth | 4:30 PM IST | South Africa won by 5 wickets |
| 31 October, 2022 | Australia vs Ireland | Brisbane | 1:30 PM IST | Australia won by 42 runs |
| 1 November, 2022 | Afghanistan vs Sri Lanka | Brisbane | 9:30 AM IST | Sri Lanka won by 6 wickets |
| 1 November, 2022 | England vs New Zealand | Brisbane | 1:30 PM IST | England won by 20 runs |
| 2 November, 2022 | Zimbabwe vs Netherlands | Adelaide | 9:30 AM IST | Netherlands won by 5 wickets |
| 2 November, 2022 | India vs Bangladesh | Adelaide | 1:30 PM IST | India won by 5 rims |
| 3 November, 2022 | Pakistan vs South Africa | Sydney | 1:30 PM IST | Pakistan won by 33 runs |
| 4 November, 2022 | New Zealand vs Ireland | Adelaide | 9:30 AM IST | New Zealand won by 35 runs |
| 4 November, 2022 | Australia vs Afghanistan | Adelaide | 1:30 PM IST | Australia won by 4 runs |
| 5 November, 2022 | England vs Sri Lanka | Sydney | 1:30 PM IST | England won by 4 wickets |
| 6 November, 2022 | South Africa vs Netherlands | Adelaide | 5:30 AM IST | Netherlands won by 13 runs |
| 6 November, 2022 | Pakistan vs Bangladesh | Adelaide | 9:30 AM IST | Pakistan won by 5 wickets |
| 6 November, 2022 | India vs Zimbabwe | Melbourne | 1:30 PM IST | India won by 71 runs |
| 9 November, 2022 | Pakistan vs New Zealand | Sydney | 1:30 PM IST | |
| 10 November, 2022 | India vs England | Adelaide | 1:30 PM IST | |
| 13 November, 2022 | Final | Melbourne | 1:30 PM IST | |