IPL 2023 Schedule: List of IPL 2023 Fixtures & IPL 2023 Start Date
Updated on: Feb 17, 2023 6:30 pm IST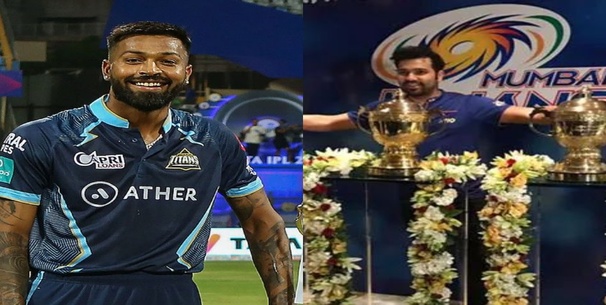 IPL 2023 Schedule: The much-awaited Indian Premier League (IPL) 2023 is all set to commence on March 31 with the Gujarat Titans taking on the Chennai Super Kings in the season opener. The upcoming season promises to be another thrilling edition of the T20 cricket extravaganza, with the tournament expanding to 12 venues, including the addition of Dharamsala and Guwahati, besides the ten home venues.
IPL 2023 Schedule: List of IPL 2023 Fixtures
The second day of the competition will witness a clash between Punjab Kings and Kolkata Knight Riders, followed by a match between Lucknow Super Giants and Delhi Capitals. On April 2, there will be a double-header as Rajasthan Royals take on Sunrisers Hyderabad, while Royal Challengers Bangalore face Mumbai Indians in a highly-anticipated encounter.
The Gujarat Titans, led by the flamboyant Hardik Pandya, are the defending champions, having won the title in 2022 after a thrilling victory over the Rajasthan Royals in the final. With an impressive squad that includes top players such as Trent Boult, Shikhar Dhawan, and Krunal Pandya, the Titans will be looking to retain their crown in the upcoming season.
Fans can expect a high-octane display of cricketing skills and entertainment from the teams, which include star players from across the globe. The tournament is sure to be a treat for cricket fans, who eagerly await the start of IPL 2023.
The Indian Premier League (IPL) 2023 will consist of a total of 70 league matches, including 18 double headers. The league matches will commence on March 31 with the opening match between Gujarat Titans and Chennai Super Kings, and will conclude on May 21 with the final league match. Each team will play a total of 14 matches, split equally between 7 home games and 7 away games.
The teams have been divided into two groups for the 2023 season. Group A includes Mumbai Indians, Kolkata Knight Riders, Rajasthan Royals, Delhi Capitals, and Lucknow Super Giants, while Group B consists of Chennai Super Kings, Sunrisers Hyderabad, Royal Challengers Bangalore, Punjab Kings, and Gujarat Titans. This year, the tournament will be held across 12 venues, with 10 home venues and 2 additional venues in Dharamsala and Guwahati.
IPL 2023 Start Date
| | | | | | | |
| --- | --- | --- | --- | --- | --- | --- |
| MatchNo. | Date | Day | Time | Home Team | Away Team | Venue |
| 1 | 31-03-23 | Fri | 7:30:00 PM | Gujarat Titans | Chennai Super Kings | Ahmedabad |
| 2 | 01-04-23 | Sat | 3:30:00 PM | Punjab Kings | Kolkata Knight Riders | Mohali |
| 3 | 01-04-23 | Sat | 7:30:00 PM | Lucknow Super Giants | Delhi Capitals | Lucknow |
| 4 | 02-04-23 | Sun | 3:30:00 PM | Sunrisers Hyderabad | Rajasthan Royals | Hyderabad |
| 5 | 02-04-23 | Sun | 7:30:00 PM | Royal Challengers Bangalore | Mumbai Indians | Bengaluru |
| 6 | 03-04-23 | Mon | 7:30:00 PM | Chennai Super Kings | Lucknow Super Giants | Chennai |
| 7 | 04-Aor-23 | Tue | 7:30:00 PM | Delhi Capitals | Gujarat Titans | Delhi |
| 8 | OS-Aor-23 | Wed | 7:30:00 PM | Rajasthan Royals | Punjab Kings | Guwahati |
| 9 | 06-Aor-23 | Thu | 7:30:00 PM | Kolkata Knight Riders | Royal Challengers Bangalore | Kolkata |
| 10 | 07-04-23 | Fri | 7:30:00 PM | Lucknow Super Giants | Sunrisers Hyderabad | Lucknow |
| 11 | 08-04-23 | Sat | 3:30:00 PM | Rajasthan Royals | Delhi Capitals | Guwahati |
| 12 | 08-04-23 | Sat | 7:30:00 PM | Mumbai Indians | Chennai Super Kings | Mumbai |
| 13 | 09-04-23 | Sun | 3:30:00 PM | Gujarat Titans | Kolkata Knight Riders | Ahmedabad |
| 14 | 09-04-23 | Sun | 7:30:00 PM | Sunrisers Hyderabad | Punjab Kings | Hyderabad |
| 15 | 10-04-23 | Mon | 7:30:00 PM | Royal Challengers Bangalore | Lucknow Super Giants | Bengaluru |
| 16 | 11-04-23 | Tue | 7:30:00 PM | Delhi Capitals | Mumbai Indians | Delhi |
| 17 | 12-04-23 | Wed | 7:30:00 PM | Chennai Super Kings | Rajasthan Royals | Chennai |
| 18 | 13-04-23 | Thu | 7:30:00 PM | Punjab Kings | Gujarat Titans | Mohali |
| 19 | 14-04-23 | Fri | 7:30:00 PM | Kolkata Knight Riders | Sunrisers Hyderabad | Kolkata |
| 20 | 15-04-23 | Sat | 3:30:00 PM | Royal Challengers Bangalore | Delhi Capitals | Bengaluru |
| 21 | 15-04-23 | Sat | 7:30:00 PM | Lucknow Super Giants | Punjab Kings | Lucknow |
| 22 | 16-04-23 | Sun | 3:30:00 PM | Mumbai Indians | Kolkata Knight Riders | Mumbai |
| 23 | 16-04-23 | Sun | 7:30:00 PM | Gujarat Titans | Rajasthan Royals | Ahmedabad |
| 24 | 17-04-23 | Mon | 7:30:00 PM | Royal Challengers Bangalore | Chennai Super Kings | Bengaluru |
| 25 | 18-04-23 | Tue | 7:30:00 PM | Sunrisers Hyderabad | Mumbai Indians | Hyderabad |
| 26 | 19-04-23 | Wed | 7:30:00 PM | Rajasthan Royals | Lucknow Super Giants | Jaipur |
| 27 | 20-04-23 | Thu | 7:30:00 PM | Punjab Kings | Royal Challengers Bangalore | Mohali |
| 28 | 20-04-23 | Thu | 7:30:00 PM | Delhi Capitals | Kolkata Knight Riders | Delhi |
| 29 | 2 1-Apr-23 | Fri | 7:30:00 PM | Chennai Super Kings | Sunrisers Hyderabad | Chennai |
| 30 | 22-04-23 | Sat | 3:30:00 PM | Lucknow Super Giants | Gujarat Titans | Lucknow |
| 31 | 22-Aor-23 | Sat | 7:30:00 PM | Mumbai Indians | Punjab Kings | Mumbai |
| 32 | 23-Aor-23 | Sun | 3:30:00 PM | Royal Challengers Bangalore | Rajasthan Royals | Bengaluru |
| 33 | 23-04-23 | Sun | 7:30:00 PM | Kolkata Knight Riders | Chennai Super Kings | Kolkata |
| 34 | 24-Aor-23 | Mon | 7:30:00 PM | Sunrisers Hyderabad | Delhi Capitals | Hvderabad |
| 35 | 25-04-23 | Tue | 7:30:00 PM | Gujarat Titans | Mumbai Indians | Ahmedabad |
| 36 | 26-04-23 | Wed | 7:30:00 PM | Royal Challengers Bangalore | Kolkata Knight Riders | Bengaluru |
| 37 | 27-04-23 | Thu | 7:30:00 PM | Rajasthan Royals | Chennai Super Kings | Jaipur |
| 38 | 28-04-23 | Fri | 7:30:00 PM | Punjab Kings | Lucknow Super Giants | Mohali |
| 39 | 29-04-23 | Sat | 3:30:00 PM | Kolkata Knight Riders | Gujarat Titans | Kolkata |
| 40 | 29-04-23 | Sat | 7:30:00 PM | Delhi Capitals | Sunrises Hyderabad | Delhi |
| 41 | 30-04-23 | Sun | 3:30:00 PM | Chennai Super Kings | Punjab Kings | Chennai |
| 42 | 30-04-23 | Sun | 7:30:00 PM | Mumbai Indians | Rajasthan Royals | Mumbai |
| 43 | 01-05-23 | Mon | 7:30:00 PM | Lucknow Super Giants | Royal Challenge | Lucknow |
| 44 | 02-05-23 | Tue | 7:30:00 PM | Gujarat Titans | Delhi Capitals | Ahmedabad |
| 45 | 03-05-23 | Wed | 7:30:00 PM | Punjab Kings | Mumbai Indians | Mohali |
| 46 | 04-05-23 | Thu | 7:30:00 PM | Lucknow Super Giants | Chennai Super Kings | Lucknow |
| 47 | 04-05-23 | Thu | 7:30:00 PM | Sunrisers Hyderabad | Kolkata Knight Riders | Hyderabad |
| 48 | 05-05-23 | Fri | 7:30:00 PM | Rajasthan Royals | Gujarat Titans | Jaipur |
| 49 | 06-05-23 | Sat | 3:30:00 PM | Chennai Super Kings | Mumbai Indians | Chennai |
| 50 | 06-05-23 | Sat | 7:30:00 PM | Delhi Capitals | Royal Challengers Bangalore | Delhi |
| 51 | 07-05-23 | Sun | 3:30:00 PM | Gujarat Titans | Lucknow Super Giants | Ahmedabad |
| 52 | 07-05-23 | Sun | 7:30:00 PM | Rajasthan Royals | Sunrisers Hyderabad | Jaipur |
| 53 | 08-05-23 | Mon | 7:30:00 PM | Kolkata Knight Riders | Punjab Kings | Kolkata |
| 54 | 09-05-23 | Tue | 7:30:00 PM | Mumbai Indians | Royal Challenge | Mumbai |
| 55 | 10-05-23 | Wed | 7:30:00 PM | Chennai Super Kings | Delhi Capitals | Chennai |
| 56 | 11-05-23 | Thu | 7:30:00 PM | Kolkata Knight Riders | Rajasthan Royals | Kolkata |
| 57 | 12-05-23 | Fri | 7:30:00 PM | Mumbai Indians | Gujarat Titans | Mumbai |
| 58 | 13-05-23 | Sat | 3:30:00 PM | Sunrisers Hyderabad | Lucknow Super Giants | Hyderabad |
| 59 | 13-05-23 | Sat | 7:30:00 PM | Delhi Capitals | Punjab Kings | Delhi |
| 60 | 14-05-23 | Sun | 3:30:00 PM | Rajasthan Royals | Royal Challengers Bangalore | Jaipur |
| 61 | 14-05-23 | Sun | 7:30:00 PM | Chennai Super Kings | Kolkata Knight Riders | Chennai |
| 62 | 15-05-23 | Mon | 7:30:00 PM | Gujarat Titans | Sunrisers Hyderabad | Ahmedabad |
| 63 | 16-05-23 | Tue | 7:30:00 PM | Lucknow Super Giants | Mumbai Indians | Lucknow |
| 64 | 17-05-23 | Wed | 7:30:00 PM | Punjab Kings | Delhi Capitals | Dharamshala |
| 65 | 18-05-23 | Thu | 7:30:00 PM | Sunrisers Hyderabad | Royal Challenge | Hyderabad |
| 66 | 19-05-23 | Fri | 7:30:00 PM | Punjab Kings | Rajasthan Royals | Dharamshala |
| 67 | 20-05-23 | Sat | 3:30:00 PM | Delhi Capitals | Chennai Super Kings | Delhi |
| 68 | 20-05-23 | Sat | 7:30:00 PM | Kolkata Knight Ride | Lucknow Super Giants | Kolkata |
| 69 | 21-05-23 | Sun | 3:30:00 PM | Mumbai Indians | Sunrisers Hyderabad | Mumbai |
| 70 | 21-05-23 | Sun | 7:30:00 PM | Royal Challengers Bangalore | Gujarat Titans | Bengaluru |
Related IPL Schedule PDF
For daily fantasy sports tips on your mobile phone, Fill out the form below