Rishabh Pant Accident Video: Indian Cricketer brutal car accident – WATCH
Updated on: Dec 30, 2022 3:31 pm IST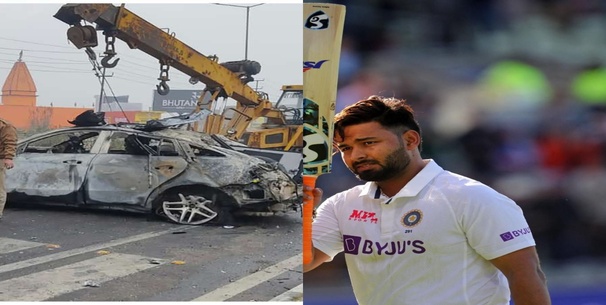 Rishabh Pant Accident Video: The cricketing world awaked with one of the most horrific updates as star Indian cricketer Rishabh Pant was involved in a brutal car crash accident. It is currently understood that the cricketer is out of danger but has sustained multiple injuries. He was recently part of the India Test side that registered an incredible 2-0 series whitewash in Bangladesh where the left-handed batsman also scored a crucial half-century in the first innings of the second Test match.
Rishabh Pant Accident Video: Indian Cricketer brutal car accident – WATCH
Rishabh Pant was travelling from Delhi to Roorkee in a car driven by himself and was going to pay a surprise visit to his mother. Around 5:30 AM IST earlier on Friday, the southpaw wicket-keeper batsman felt a bit sleepy and his car crashed into a divider on the Delhi – Dehradun highway near the Roorkee border. DGP of Uttarakhand Police, Ashok Kumar, stated that the accident took place in between Mangalur and Narsan in Haridwar district. He also revealed that Pant was alone in the vehicle and he had to break the window to get the cricketer out of the burning car.
As per the latest reports, Rishabh Pant has suffered multiple injuries on his forehead and left eye and was first treated immediately at a local hospital in Roorkee before being admitted to the Max Hospital in Dehradun. He has also sustained a ligament tear to his left knee and back abrasions. However, the good news is that the 25-year-old is currently stable and everyone in the world is praying for his speedy recovery.
Rishabh Pant's miraculous escape after his car met with an accident early morning on Friday.#RishabhPant #RishabhPantAccident pic.twitter.com/szUSlYCMtp

— IndSamachar News (@Indsamachar) December 30, 2022
CCTV footage when cricketer #RishabhPant's car met with an accident. pic.twitter.com/q8Rd2BUDlf

— Nikhil Choudhary (@NikhilCh_) December 30, 2022

Rishabh Pant Car Accident: BCCI gives official update
"India wicket-keeper Rishabh Pant met with a car accident early on Friday morning near Roorkee, Uttarakhand. He was admitted to Saksham Hospital Multispecialty and Trauma Centre where he was treated for impact injuries. Rishabh has two cuts on his forehead, a ligament tear in his right knee and has also hurt his right wrist, ankle, toe and has suffered abrasion injuries on his back. Rishabh's condition remains stable, and he has now been shifted to Max Hospital, Dehradun, where he will undergo MRI scans to ascertain the extent of his injuries and formulate his further course of treatment," stated the press release issued by the BCCI.
"The BCCI is in constant touch with Rishabh's family while the Medical Team is in close contact with the doctors currently treating Rishabh. The Board will see to it that Rishabh receives the best possible medical care and gets all the support he needs to come out of this traumatic phase," the release added.
Media Statement – Rishabh Pant

The BCCI will see to it that Rishabh receives the best possible medical care and gets all the support he needs to come out of this traumatic phase.

Details here 👇👇https://t.co/NFv6QbdwBD

— BCCI (@BCCI) December 30, 2022