BER vs USA Dream11 Match Prediction | Grand League Teams Americas Region Final-T20 1st Match
Updated on: Aug 17, 2019 11:37 pm IST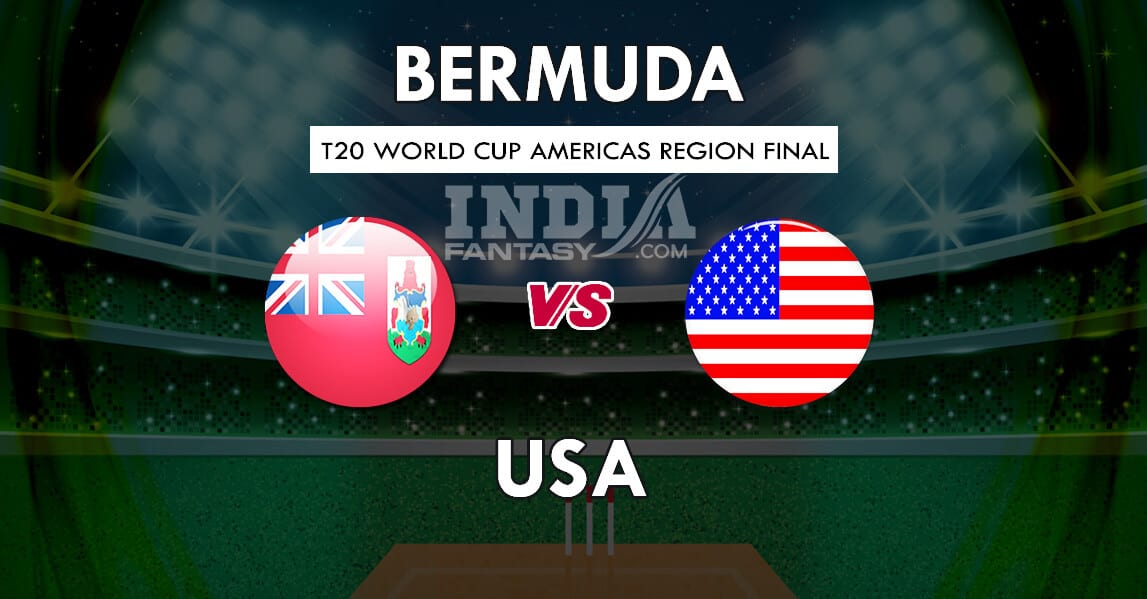 BER vs USA Dream11 Prediction | Grand League Teams | Americas Region Final T20 | 1st Match Preview
Bengaluru, August 18 at 07:30 PM IST
The first match of ICC Men's T20 World Cup Americas Region Final 2019 will be played today between the hosts Bermuda and the United States at Sandys Parish.
A total of four teams are participating in the tournament for the two spots in the Global Qualifiers. Along with the hosts Bermuda, Canada, the United States and the Cayman Islands are competing in the tournament.
The clash will begin at 07:30 PM IST.
Read more: DULEEP TROPHY 2019: Squads, Fixtures & Key Players
---
BER vs USA Team News:
Both the sides have named their respective squads
The hosts Bermuda has announced a 16-member squad to take part in the tournament
Dion Stovell has been named as the skipper
The United States is touring with a 14-man squad
S Netravalkar will lead the side
J Malhotra, X Marshal, Monank Patel and Hayden Walsh Jr are the key names in the squad
---
BER vs USA Squads:
Bermuda-
Dion Stovell (Captain), Justin Pitcher, Onias Bascome, Macai Simmons, Derrick Brangman, George O'Brien Jr, Terryn Fray, Rodney Trott, Sinclair Smith, Deunte Darrell, Allan Douglas Jr, Okera Bascome, Kamau Leverock, Delray Rawlins, Zeko Burgess & Kyle Hodsoll
USA-
Monank Patel, Karima Gore, Aaron Jones, Saurabh Netravalkar, Nisarg Patel, Timil Patel, Jasdeep Singh, Steven Taylor, Timroy Allen, Cameron Gannon, Muhammad Ali Khan, Jaskaran Malhotra, Xavier Marshall, Hayden Walsh Jr
Read more: Karnataka Premier League 2019: Squads, Fixtures and Key Players
BER vs USA Probable Playing11:
Bermuda:
Macai Simmons, Dion Stovell, Okera Bascome, Terryn Fray, Kamau Leverock, Delray Rawlins
USA:
JS Malhotra, Timil Patel, Xavier Marshall, Monak Patel, Steven Taylor, Mohammad Ali Khan, Saurabh Netravalkar, Hayden Walsh Jr
---
BER vs USA Dream11 Fantasy Team:
Team 1 & 2: USA is favourite to win the contest 
Wicketkeeper: J Malhotra
Batsmen: S Taylor, X Marshall,  T Fray, D Rawlins
All-rounder: T Patel,  H Walsh, K Leverock
Bowlers: S Netravalkar, Ali Khan, R Trott
Captain choices: J Malhotra, S Taylor
Wicketkeeper: J Malhotra
Batsmen: S Taylor, X Marshall, D Rawlins, T Fray
All-rounder: T Patel, H Walsh, K Leverock
Bowlers: S Netravalkar, Ali Khan, R Trott
Captain choices: H Walsh, S Netravalkar

Team 4 & 5: Close encounter but USA wins
Wicketkeeper: J Malhotra
Batsmen: M Patel, T Fray,  D Rawlins
All-rounder: H Walsh, T Patel, K Leverock
Bowlers: S Netravalkar, Ali Khan, R Trott, G O Brien
Captain choices: M Patel, D Rawlins
Wicketkeeper: J Malhotra,
Batsmen: M Patel, X Marshall, O Bascome, D Rawlins
All-rounder: T Patel, K Leverock
Bowlers: S Netravalkar, Ali Khan, R Trott, G O Brien
Captain choices: J Malhotra, K Leverock
Team 5 & 6: Bermuda causing upset
Wicketkeeper: J Malhotra, O Bascome
Batsmen: M Patel, O Bascome, D Rawlins
All-rounder: T Patel, K Leverock
Bowlers: S Netravalkar, Ali Khan, R Trott, G O Brien
Captain choices: D Rawlins, O Bascome
Wicketkeeper: J Malhotra, O Bascome
Batsmen: M Patel, O Bascome, D Rawlins
All-rounder: T Patel, K Leverock
Bowlers: S Netravalkar, J Pitcher, R Trott, G O Brien
Captain choices: R Trott, D Rawlins