What is Babar Azam Age?
Updated on: Jun 26, 2023 6:16 pm IST
In the realm of international cricket, few names resonate with as much admiration and respect as that of Babar Azam. Hailing from Pakistan, Babar Azam has risen through the ranks to establish himself as one of the most prolific batsmen in the modern era. This blog delves into Babar Azam Age and the achievements of Pakistani star cricketer, tracing his journey from humble beginnings to becoming the backbone of Pakistan's batting lineup.
What is Babar Azam Age?
Babar Azam was born on 15 October 1994. Babar Azam is 28 years old.
From a young age, he displayed a keen interest in cricket, drawing inspiration from his uncle, the former Pakistani cricketer, Akmal brothers (Kamran, Umar, and Adnan). Babar's talent and passion for the sport were nurtured in the streets and local cricket clubs of Lahore, where he honed his skills and developed a strong foundation.
Babar Azam's talent was soon recognized by the cricketing fraternity, and he made his international debut in 2015 against Zimbabwe in a One-Day International (ODI) match. He announced his arrival on the international stage with a scintillating century in his third ODI, becoming the fastest player to reach 1,000 runs in the format. Since then, Babar has consistently delivered exceptional performances, solidifying his position as one of Pakistan's finest batsmen.
Rise to Prominence: Babar Azam's rise to prominence has been nothing short of remarkable. With his elegant strokeplay, impeccable technique, and composure at the crease, he has earned comparisons to legendary batsmen of the past. Whether it's playing explosive innings in limited-overs cricket or anchoring the innings in Test matches, Babar has showcased his versatility and adaptability across all formats.
Milestones and Records: Babar Azam's career is adorned with numerous milestones and records. He became the fastest player to reach 1,000, 2,000, 3,000, and 4,000 runs in One-Day Internationals, surpassing greats such as Virat Kohli and Hashim Amla. In 2020, he was appointed as the captain of the Pakistan national team in white-ball cricket, further solidifying his status as a leader.
Related Pakistan cricketers wife

The Captaincy and Future Prospects: Babar Azam's appointment as the captain of the Pakistan cricket team has added another dimension to his already illustrious career. Under his leadership, Pakistan aims to achieve greater success in international cricket and reclaim its position as a force to be reckoned with. With his youth, skill, and determination, Babar Azam has the potential to lead Pakistan to new heights and establish himself as one of the all-time greats of the game.
Off the Field: Beyond his cricketing exploits, Babar Azam is known for his modesty, humility, and dedication to the sport. He is an inspiration to aspiring cricketers, showcasing the importance of hard work, discipline, and a strong work ethic in achieving success.
Babar Azam's journey from a talented youngster in Lahore to becoming the backbone of Pakistan's batting lineup is a testament to his extraordinary talent and unwavering dedication. With his elegant strokeplay, records, and leadership skills, Babar Azam has won the hearts of cricket fans around the world.
Follow us on Google News
Never miss an update, visit Google News & FOLLOW US.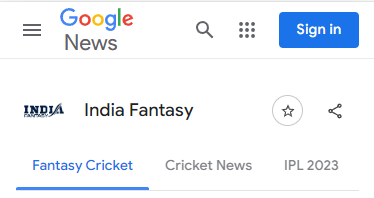 For daily fantasy sports tips on your mobile phone, Fill out the form below