FRA-W vs USA-W Dream11 Team Prediction Olympics Women Live Score France vs USA, 2 August
Updated on: Aug 1, 2021 4:01 pm IST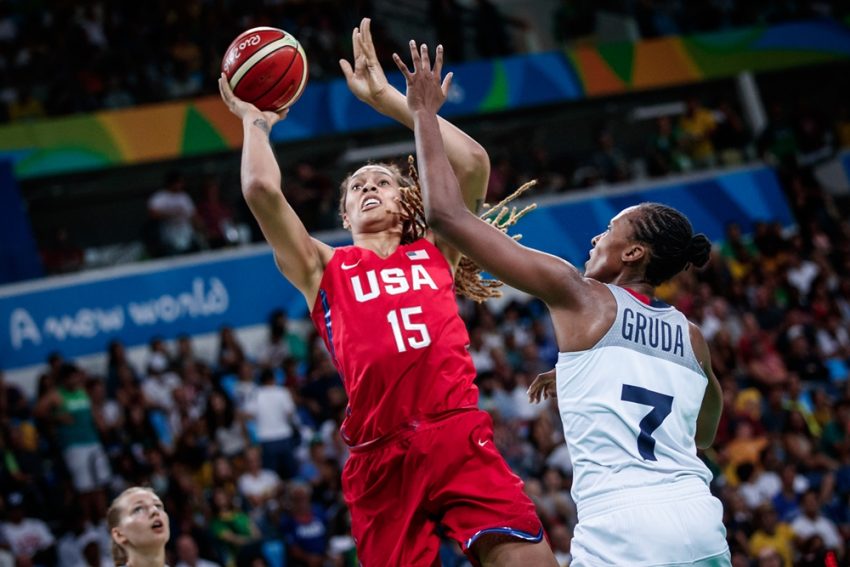 France vs USA Women Olympics Live: More than half of the spots for the Quarterfinals are booked right now but for some teams, the last leg of women's basketball matters a lot and they will have to fight for the final spots. To no one's surprise, the USA has already qualified and looks like the favorites for the Gold medal. On the other hand, this game means a lot for French women who lost their game to Japan and will need to win this game to ensure that they don't hang by a thread for final spots. More about FRA-W vs USA-W Dream11 will be given here.
Match Timing: 2 August, @ 10:10 AM
Venue: Saitama Super Arena, Japan
Where to WATCH France vs USA Women Olympics Live Score and Streaming?
Sony Channels including Sony Ten 1, Sony Ten 3 and Sony ESPN in India, and SonyLiv app.
FRA-W vs USA-W Dream11 Prediction for Basketball Match Today:
France| USA
Games: 02 | 02
Wins: 01| 02
Defeats: 01| 00
France vs USA Women Olympics Basketball: The USA is now on a 51 game winning streak and it is no surprise that the team was one of the firsts to qualify for the next round. USA has strength, athleticism, speed, and finesse, all qualities that make them an incredible team, and they can overwhelm any opponent. France also has a lot of weapons and a combination of size and speed, but against Japan, they couldn't figure out a potent offensive combination. How can France stop the juggernaut of USA which has a Frontline combination of Stewart, Wilson, and Griner, who can pound the glass, get inside points, and make tough mid-range jumpers. Can the French women pull of an upset against the mighty USA?
France vs USA Olympics News
France Women News:
Status Out: No one has been ruled out.
Status Questionable: Nothing further to report so far.
France active roster: Marine Fauthoux, Endene Miyem, Alexia Chartereau, Sandrine Gruda, Helena Ciak, Sarah Michel, Valeriane Vukosavljevic, Iliana Rupert, Gabby Williams, Marine Johannes, Alix Duchet, Diandra Tchatchouang.
USA Women News:
Status Out: Nothing to report so far.
Status Questionable: None.
USA active roster: Skylar Diggins, Jewell Lloyd, Sue Bird, Diana Taurasi, Ariel Atkins, Chelsea Gray, A'Ja Wilson, Breanna Stewart, Napheese Collier, Diana Taurasi, Sylvia Fowles, Tina Charles, Brittney Griner.
FRA-W vs USA-W Dream11 Team| Player Stats
Sandine Gruda
PPG: 16.0      RPG: 9.0
Gruda is an incredible low-post player who can use her wide frame to finish inside.  Sandine has a lot of post-moves in her toolkit but she si a decent mid-range bomber as well. Gruda also poses a threat at the defensive and her rebounding abilities maker her a prototypical Center. She racked up 14 points, 9 rebounds, and 3 assists versus Nigeria. Sandine is a candidate for the Super Player in the Dream11 Fantasy scenario.
A'Ja Wilson
PPG: 19.5       RPG: 11.5
The reigning WNBA MVP is an incredible basketball talent who can light fire in any squad. Her athletic and strong body allows her to overpower defender on the post but she also has skills in terms of shooting the ball and her feet movements are excellent. A'Ja can also dominate on the defensive end and tap in rebounds like a beast. Wilson came up with 20 points, 10 rebounds, and 3 assists versus Japan.


Endene Miyem
PPG: 12.5      RPG 5.5
Endene is a highly talented  Forward who can influence the game on the offensive end. She has a beautiful shooting form and can pour it down from the deep range. Her off-the-ball movement is incredible and her rebounding makes her a superb Forward. Miyem locked in 13 points and 5 rebounds against Nigeria.

Breanna Stewart
PPG: 12.0      RPG: 12.0         APG: 5.0
The former WNBA MVP is an absolute talent and her skills are beyond any superlatives. She can finish inside, shoot from deep, and she is also a great dribbler for a Forward. Her rebounding, playmaking, and defense makes her a complete player. She turned up with 15 points, 13 rebounds, and 6 assists against Japan.
Gabby Williams
PPG: 11.0         RPG: 6.5        APG: 4.5         SPG: 3.5
Gabby is a highly talented Forward who has an array of skills in her repertoire. She is an excellent scorer who moves smoothly, add some great passing skills, and you have a terrific offensive player. She is also a hardworking rebounder and defender, and overall, she is a jack-of-all-trades. Williams brought in 13 points, 9 rebounds, and 4 assists against Nigeria.
Britney Griner
PPG: 11.0   RPG: 3.0
Britney is a veteran Center whose size enables her to establish dominance on the offensive end. Griner also has an incredible face-up jumper and her feet movement allows her to also make acrobatic finishes. Britney grabbed 15 points and 5 rebounds against Japan.
Sue Bird: APG: 9.5
Alix Duchet: PPG: 10.0    RPG: 4.0
Marianne Johannes: PPG: 9.5   APG: 4.0
Chelsea Gray: PPG: 6.0   APG: 3.0  
FRA-W vs USA-W Dream11 Prediction
PG: A Duchet
SG: C Gray, M Johannes, D Taurasi
SF: A Wilson(SP)
PF: S Fowles, B Stewart
C:   S Gruda(PP)