JOR vs IND Dream11 Prediction FIBA Men's Qualifiers Live Fantasy Basketball Dream11 Team, Top Picks and Tips for Jordan vs India
Updated on: Aug 25, 2022 6:09 pm IST
JOR vs IND Dream11: FIBA World Cup Qualifiers are in full swing and the game sheet is spread far and wide. It means that the rhythm has to be acquired in a quick time which makes for a tricky scenario. In this game of the Men's World Cup Qualifiers, Jordan is going to take on India as a part of the Asian Qualifiers.

Jordan is a 39-ranked squad and poses a significant threat to Asian teams that are struggling to keep afloat. From Group C, Jordan advanced to the Second Round after acquiring four wins in six games. On the other hand, India got lucky after losing all their four games in Group A but because of Korea's disqualification, they advanced to the second round. They are a 82-ranked squad and their chances of making it to the World Cup aren't exactly inspiring.
Home: Jordan
Visitors: India
Match Timing: 25 August, @ 09:30 PM (+05:30 UTC)
Venue: Amman, Jordan
FIBA Asia Cup Projections, Stats & Analysis
Tough game for India
Jordan players have built their niche as athletes who play for major franchises across the Globe. Ahmad Al Dwairi is a player for Fenerbahce in Turkey and poses a huge threat to the Indian frontline that is surely going to be outmatched by him alone. India is fielding a young roster and their regular players such as Vishesh Bhirguvanshi and Sahaij Pratap Singh are not in the lineup which means that the 19-26 years old infused roster will have to tackle a tall task here. To be honest, I doubt India will be even in the 20 points range of the Jordan effort here. The difference between both talent and experience is just too wide.
Jordan vs India FIBA Men's Qualifiers Live, Team News and Lineups
India Roster:
India Expected Starters
C: Aryan
PF: Prashant Singh Rawat
SF: Pranav Prince
G: Arvind Kumar Muthu Krishnan
PG; Muin Ben Hafeez
BENCH: Amarendra Nayak, Abhishek Gowda, Sunil, Pratayanshu Tomar.
Jordan Roster:
Jordan Expected Starters
C: Ahmad Al Dwairi
PF: Ziad Abbas
SF: Amin Abu Hawwas
SG: Dar Tucker
PG: Freddy Ibrahim
BENCH: Ahmad Alhamarsheh, Ashraf Alhendi, Sami Bzai, Yousef Abuwazaneh, Hashem Abbas, Malek Kannan, Cadin Chudri Zuheir Alnajdawi.
FIBA Men's Qualifiers Scores, Fantasy Basketball Top Picks
Dar Tucker(JOR)
Dar is an automatic bucket and I have doubts that Indian defense will be able to limit him. Averaging around 18 points a game lately along with around 7 rebounds and 3 assists a game.
Muik Ben Hafeez(IND)
Muik will play an integral role as the ball-handler and scorer in absence of stalwarts like Vishesh and Sahaj. He is averaging a shade under 7 points in the current Qualifiers' window.

Freddy Ibrahim(JOR)
Freddy is an exceptional passer and scorer. He is averaging 11 points and 5 assists a game.
Arvind Muthu(IND)
Arvind is a superb scorer, especially from mid-range and inside. Can he turn something special here? He is averaging around 8 points and around 3 rebounds and 3 assists a game.
Ahmad Al Dwairi(JOR)
Ahmad is a strong inside player and his 6'11 frame will need a lot of challenge from Indian frontline. He is averaging around 9 points and 9 rebounds. 
Aryan(IND)
Aryan lacks finesse to finish inside but the 19-year old 7 feet 2 inches height gives him some impact on the rebounding and defense.
Zaid Abbas(JOR)
Zaid is a strong defender and gives decent scoring and rebounding. He is averaging around 9 points and 5 rebounds a game.
Prashant Singh Rawat(IND)
Prashant's role both as a scorer and rebounder has to be huge here as India will collide against a physical Jordan team. He is averaging 7 points and 6 rebounds. 
Amin Abu Hawwas(JOR)
Amin is a shot-creator who will be tough for the young Indian team to deal with. He is averaging around 13 points a game.
Pranav Prince(IND)
Pranav will receive a decent chunk of minutes with Vishesh and Sahaij out.
Sam Bzai, Ahmad Alhamashareh, and Malek Kannan are decent options from Jordan.
JOR vs IND Dream11 Lineup
PG: F Ibrahim, M Bek-Hafeez, A Muthu Kumar
SG: A Abu Hawwas(PP), D Tucker(SP)
SF: Z Abbas
PF: P Singh Rawat
C:    A Al-Dwairi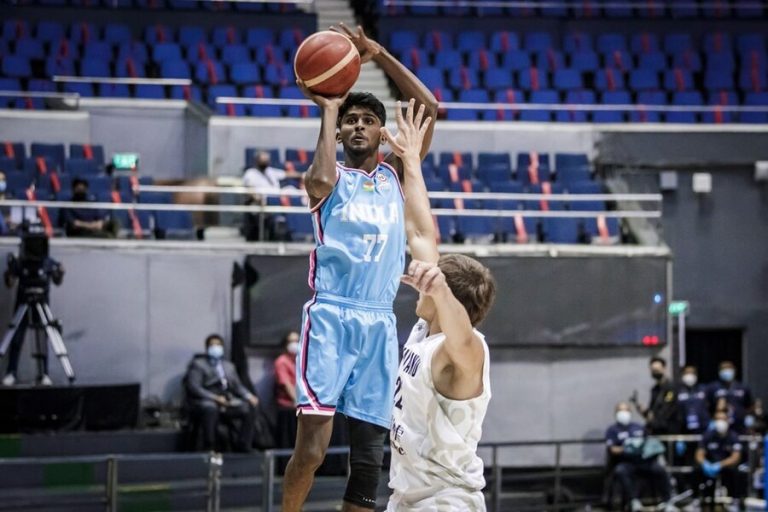 Where to watch FIBA Men's Qualifiers Live Score?
FIBA Men's Qualifiers can be streamed through the Courtside 1891 website, which can be accessed by using the link accessible on the official website of FIBA, where you can go to FIBA Men's Qualifiers and access the link through there. You can follow the score through the official website of FIBA.