NYK vs POR Dream11 NBA Team Prediction – Fantasy Team News
Updated on: Nov 20, 2018 8:23 pm IST
NYK vs POR Dream11 NBA Team Prediction – Fantasy Team News
New York Knicks vs Portland Trail Blazers
MATCH DETAILS:
Match Timing: November 21, 2018, @ 06:00 AM IST
NBA Regular Season
Venue – Madison Square Garden, New York
Capacity- 20,789
NYK vs POR DREAM11 MATCH PREVIEW:
New York Knicks will aim to snap their five-game losing streak when they play host to Western Conference leaders Portland Trail Blazers at Madison Square Garden, in New York, on Wednesday morning (IST).
New York Knicks:
New York Knicks needed to hustle bravely this season to make it to the playoffs, something they missed out by a huge 14 games last season. So definitely, big strides should have been taken, aggressiveness must have been the hallmark of their game, and all in all, the consistency, the reminiscent of success, should have exuded out from their performances. But sadly, improvement looks a distant dream for Knicks, while they have taken slides down by few notches this season.
In the 2017-18 regular season, their final record stood at 0.354, while this season it's the 4th worst across both conferences and records at 0.235 from the first 17 games. Too low, and too insignificant to make any impact at all on the teams currently flying above them.
In the last match, New York faced Orlando Magic, a team finishing 2nd last in the Eastern Conference last season, but are now 7th and have a positive record at 9-8 after beating their sorry-looking opponents 131-117 at Amway Center.
Their current standing or the record for that matter is expected to plunge into deeper obscurity as they prepare themselves to face some of the big guns of NBA in the upcoming games, starting with a matchup against Portland Trail Blazers who are fresh from usurping Golden State Warriors from the summit of the Western Conference table.
Good luck to them!
Portland Trail Blazers:
Portland Trail Blazers have finally moved to the top in the West after defeating Washington Wizards 109-119 in their last match. They should enjoy the view, must take proud from looking down upon the Golden State Warriors, what if the Dubs themselves played a huge hand in their own downfall, forcing head coach Steve Kerr to admit that this is the real NBA, and now they are out of their dream spell.
But Blazers deserve all the plaudits they are getting and the heavenly view at this moment. They were on a two-game losing streak when they took a flight to Washington to take on the city franchise. But there were no jet-leg issues, certainly not with Damian Lillard who dropped a magnificent game-high of 40 points in the match to end his team's little sorry period.
Regular Season Record-
New York Knicks: W-4, L-13
Portland Trail Blazers: W-11, L-5
Players to watch out for:
New York Knicks:
Tim Hardaway Jr. – It's really difficult to look for a positive in a side struggling to put wins on the board, but Knicks have the luxury of doing just that. Tim Hardaway has been quite phenomenal for them, dropping 23.9 points per game up until now. In the last two matches, he has scored 32 and 30 points respectively. Clearly a man in good form.
Enes Kanter – The 26-year-old is the 2nd best player for New York Knicks this season, scoring 15.5 points per game in the 2018-19 regular season.

Portland Trail Blazers:
Damian Lillard – Portland Trail Blazers are blessed with some unique talent with Damian Lillard sitting at the top of that pile. The 28-year-old is dropping numbers which are good enough to fetch him an MVP this season. The 2012 first round pick is scoring 26.6 points per game in the games so far this season, also leading the assists chart for his team as well.
CJ McCollum – Only other player in Blazers' ranks to score in the 20s this season. The 27-year-old small guard is going for 20.8 points per game this season.
NYK vs POR DREAM11 TEAM NEWS:
New York Knicks:
Injured – New York Knicks will be without Courtney Lee (neck injury), Kristaps Porzingis (knee injury), and Lance Thomas (knee injury) for this game.
Questionable – While Mario Hezonja has been listed as questionable ahead of this match.
Suspended – None.
Portland Trail Blazers:
Injured – Maurice Harkless has been ruled out for the visitors through the knee injury.
Questionable – Also, Seth Curry is suffering from a knee injury as well. But he is a doubt and will be assessed ahead of the match.
Suspended – None
NYK vs POR Dream11 Teams (Probables):
New York Knicks:

Kevin Knox (F), Allonzo Trier (F), Mitchell Robinson (C), Tim Hardaway Jr. (G), Emmanuel Mudiay (G)

Portland Trail Blazers:

Jake Layman (F), Al-Farouq Aminu (F), Jusuf Nurkic (C), Damian Lillard (G), CJ McCollum (G)
From the bench:
New York Knicks:

Enes Kanter, Noah Vonleh, Trey Burke, Frank Ntilikina, Damyean Dotson

Portland Trail Blazers:

Meyers Leonard, Evan Turner, Nik Strauskas, Seth Curry, Zach Collins, Anfernee Simons, Gary Trent Jr.
NYK vs POR DREAM11 Fantasy Team: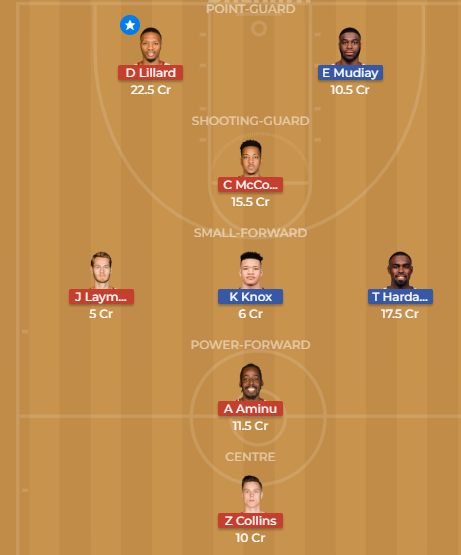 INDIA FANTASY PREDICTION:
Portland Trail Blazers should be too good a match for the struggling New York Knicks who have been struggling this season, irrespective of where they are playing – at home or away.
Blazers to win.
NOTE: THIS NYK vs POR DREAM11 MATCH PREVIEW IS BASED ON OUR RESEARCH AND UNDERSTANDING FROM VARIOUS NEWS SOURCES. YOU CAN SELECT YOUR OWN PLAYING 11 ON THE BASIS OF TEAM NEWS.