India vs Zimbabwe T20 World Cup (Stats & Fantasy Teams)
Updated on: Nov 6, 2022 1:15 pm IST
India vs Zimbabwe
Small League Teams
Safe Team

Risky Team
Grand League Teams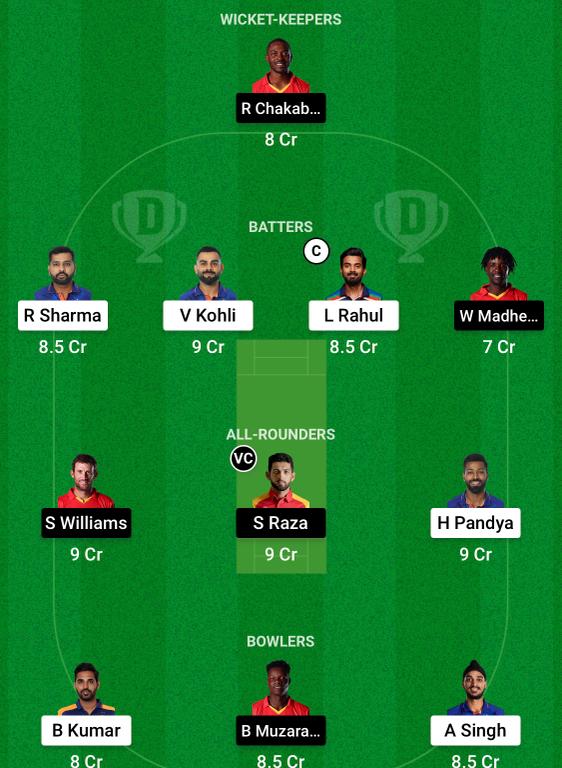 Date – 06th November 2022
Time– 1:30 PM IST
Venue – Melbourne Cricket Ground, Melbourne
Last result at this venue: Ireland (157/10 in 19.2 overs) beat England (105/5 in 14.3 overs) by 5 runs (DLS Method).
Head To Head (Last 5 Matches)
Win/Loss
India Won– 3
Zimbabwe Won– 2
No Result– 0
Form Guide
India (recent last): L W W L W
Zimbabwe (recent last): W NR W L L
Probable Playing 11's 
India: KL Rahul, Rohit Sharma, Virat Kohli, Suryakumar Yadav, Dinesh Karthik, Axar Patel, Hardik Pandya, Ravi Ashwin, Bhuvneshwar Kumar, Arshdeep Singh, Mohammed Shami.
Zimbabwe: Craig Ervine, Wesley Madhevere, Regis Chakabva, Milton Shumba, Sikandar Raza, Sean Williams, Ryan Burl, Luke Jongwe/Bradley Evans, Richard Ngarava, Tendai Chatara, Blessing Muzarabani
---
IND Team News
Dinesh Karthik recovered in time for the game against Bangladesh and kept wickets. India would be hoping for his finishing to come good in the coming matches.
India are expected to go with the same eleven and not break their winning combination.
ZIM Team News
Zimbabwe have been knocked out of the tournament. They have not come good after that win against Pakistan.
They might look to make a few changes since this is their last game of the world cup and give some chances to the bench players.
---
Player Performances
India

Player Name

vs Zimbabwe
In Australia
In T20Is

KL Rahul

Matches- 3

Runs- 69

S/R- 113.11

Matches- 11

Runs- 180

S/R- 111.11

Matches- 70

Runs- 22209

S/R- 139.10🔥

Rohit Sharma

Matches- 2 

Runs- 10

S/R- 66.66

Matches- 13

Runs- 255

S/R- 125.16

Matches- 146

Runs- 3811

S/R- 139.80🔥

Virat Kohli

Matches- 2 

Runs- 26

S/R- 123.80

Matches- 15

Runs- 671

S/R- 144.61🔥

Matches- 113

Runs- 3932

S/R- 138.45🔥

Suryakumar Yadav

Never Played

Matches- 4

Runs- 164

S/R- 180.21🔥

Matches- 33

Runs- 1209

S/R- 177.27🔥

Dinesh Karthik

Never Played
Matches- 8

Runs- 74

S/R- 121.31

Matches- 60

Runs- 686

S/R- 142.61

Hardik Pandya

Never Played

Matches- 10

Runs- 125

Wickets- 9🔥

Matches- 77

Runs- 1036

Wickets- 60🔥

Axar Patel

Matches- 5

Wickets- 6

Eco- 6.82🔥

Matches- 3

Wickets- 2

Eco- 8.62

Matches- 35

Wickets- 33

Eco- 7.04

Ravichandran Ashwin

Matches- 2

Wickets- 2

Eco- 7.16

Matches- 9

Wickets- 8

Eco- 8.23

Matches- 63

Wickets- 69

Eco- 7.12🔥

Bhuvneshwar Kumar

Matches- 2

Wickets- 2

Eco- 6🔥

Matches- 5

Wickets- 7

Eco- 6.21🔥

Matches- 83

Wickets- 88

Eco- 6.96🔥 

Mohammed Shami

Never Played

Matches- 5

Wickets- 4

Eco- 7.15

Matches- 21

Wickets- 22

Eco- 8.83

Arshdeep Singh

Never Played

Matches- 4

Wickets- 9

Eco- 8.25🔥

Matches- 17

Wickets- 28

Eco- 8.17🔥 
🔥🔥🔥 (most Important Picks) – Bhuvneshwar Kumar
🔥🔥 (Important Picks) – Arshdeep Singh, Hardik Pandya, Suryakumar Yadav, Virat Kohli
🔥 (Punt Pick) – Rohit Sharma, Axar Patel, Ravi Ashwin KL Rahul
---
Zimbabwe

Player Name

vs India
In Australia
In T20Is

Craig Ervine

Matches- 3

Runs- 39

S/R- 66.10

Matches- 6

Runs- 99

S/R- 90.00

Matches- 55

Runs- 1119

S/R- 105.76🔥

Wesley Madhevere
Never Played

Matches- 7

Runs- 106

S/R- 132.19

Matches- 43

Runs- 901

Wickets- 10🔥

Milton Shumba

Never Played

Matches- 7

Runs- 65

S/R- 79.26

Matches- 30

Runs- 385

S/R- 108.14

Sikandar Raza

Matches- 4

Runs- 39

Wickets- 0

Matches- 7

Runs- 185

Wickets- 9🔥

Matches- 65

Runs- 1225

Wickets- 37🔥

Regis Chakabva

Never Played
Matches- 7

Runs- 45

S/R- 77.58

Matches- 48

Runs- 682

S/R- 123.77🔥

Sean Williams

Matches- 1

Runs- 17

S/R- 94.44

Matches- 7

Runs- 144

S/R- 121.00🔥

Matches- 65

Runs- 1418

S/R- 126.72🔥

Luke Jongwe

Never Played

Matches- 6

Wickets- 2

Eco- 11.80

Matches- 44

Wickets- 50

Eco- 8.45🔥

Ryan Burl

Never Played

Matches- 7

Runs- 66

S/R- 88.00

Matches- 54

Runs- 794

S/R- 115.23🔥

Blessing Muzarabani

Never Played
Matches- 7

Wickets- 11

Eco- 6.77🔥

Matches- 33

Wickets- 41

Eco- 7.76🔥 

Richard Ngarava

Never Played

Matches- 6

Wickets- 4

Eco- 6.36🔥

Matches- 30

Wickets- 30

Eco- 7.70🔥

Tendai Chatara

Matches- 2

Wickets- 1

Eco- 7.62

Matches- 6

Wickets- 4

Eco- 6.36🔥

Matches- 46

Wickets- 51

Eco- 7.23🔥 
🔥🔥 (Important Picks) – Richard Ngarava, Tendai Chatara, Blessing Muzarabani, Sean Williams, Sikandar Raza
🔥 (Punt Pick) – Ryan Burl, Luke Jongwe, Regis Chakabva, Wessly Madhevere, Craig Ervine