All 9 KL Rahul tattoo and their meanings explained
Updated on: Nov 19, 2021 1:08 pm IST
KL Rahul tattoo : Some of the cricket fans would like to follow their superstars not only on the field but with their every activity in their personal lives as well. Fans would follow everything right from their gym routines to their hobbies.

All KL Rahul Tattoo Meaning
KL Rahul has been a regular member of Team India for last 3-4 years and he has proved himself with the immense ability and all-round skills. He maintains his physique in good shape with a stringent fitness routine. Tattoos are his passion and he likes to tell his stories by inking various parts of his life on the body. We will take a look at KL Rahul tattoos, the story behind it and the importance of the same in his life.
1. Lighthouse Tattoo
KL Rahul grew up at his family house in Mangaluru just by the beach. There was a beautiful lighthouse at the beach and he shares fond memories of it from his childhood days. He inked lighthouse on his left forearm to remind himself of his picturesque native and early life.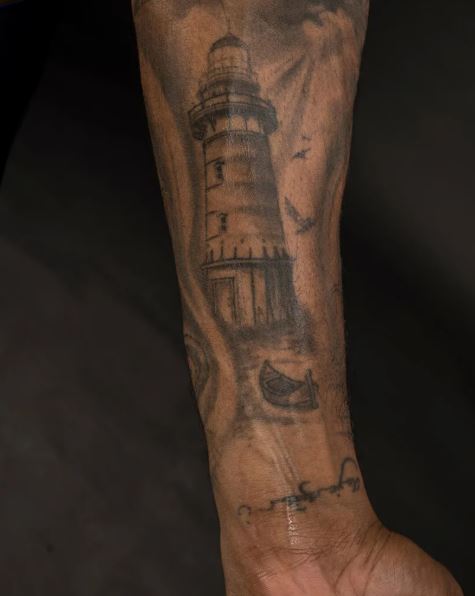 2. Key Tattoo
KL Rahul spots a key with ram horns on his left forearm. This tattoo is rooted in his star sign which is Aries. This key reminds him to always remain positive towards new experiences that will help him to justify his potentials.
3. Clock Tattoo
KL Rahul was born at 11 o'clock that is the exact reason why he is having a clock on inside part of his left bicep positioned at that time. There is also a Latin phrase "Veni, vidi, vici" written just underneath the clock which suggest that KL Rahul's time has already begun and he will be looking to conquer the world with the willow.
4. Eye Tattoo
There is an open eye on his left bicep which suggests that his grandparents are always with him and having an eye over him. KL Rahul was very close to his grandparents and they were integral part of his life.
5. 'Deshi Basara' Tattoo
KL Rahul is quite impressed from the superhero Batman and he has a tattoo on his right forearm of 'Deshi Basara' which means 'to rise up'. This is based on the Batman film The Dark Knight Rises which was released in 2012.

6. '284' & '11' Tattoos
The next KL Rahul tattoo is '284' & '11' inked in Roman numerals on the right side of his torso which indicates his test cap number. He was 284th test cricketer to play for India. He is also having a number XI tattoo on his left bicep which was his jersey number when he was selected to play for India for the first time.
7. Parents' Names Tattoos
Apparently his parents were quite annoyed due to his tattoos and he decided to please them. He did that by dedicating tattoos of their names on his wrists. He has tattoos of 'Rajeshwari' on his left wrist and 'Lokesh' on his right wrist.
8. Simba Tattoo
KL Rahul has a special place in his heart for his dog 'Simba' and you can often spot his pet on the social media posts. So, when he decided to go under the ink in 2017 during the Sri Lanka tour, it was a tattoo of his favourite dog on the back.
9. Owl Tattoo
There is a masterpiece of art depicting an owl on his left hand which symbolizes the wisdom and knowledge that KL Rahul will be requiring on the cricket field to prevail over the oppositions.