Virat Kohli Tattoo: All 11 tattoos with their meanings
Updated on: Nov 16, 2023 4:53 pm IST
Each and every Virat Kohli tattoo has a story to tell and signifies a turning point in the life. For Virat Kohli his tattoos are the symbols of his own identity. With the 11 different tattoos that he has on various parts of his body, he wishes to project himself to the world, the ideals and attributes that he stands for. We look at what each of his tattoo stands for and the interesting stories behind it.
1. Tribal Art on his right forearm
It was the first ever tattoo that he got inked, it represents his aggression. He had earlier mentioned that at that point of time his intention to get inked was just to show to the world that he was cool and hence chose a tribal design to showcase his aggression.
But little did he knew at that time that he would have many more tattoos in the near future that he could probably relate more to.
2. Scorpio Tattoo on his upper right arm
Virat Kohli has inked a 'Scorpio' on his right bicep. It is his Zodiac sign as he was born on November 5. 
The Scorpions are believed to be strong-willed persons who handle difficulties with courage and bravery. To a person like Virat, who has strived and worked his way towards success these attributes fit in well. He had said that he always wanted to be that person who pushes forward for success and hence decided to make it a part of his body.
3. The Lord Shiva Tattoo on his left forearm
He has a tattoo of Lord Shiva meditating on Mount Kailash on his left forearm. The reason behind him having it is the fact that he wishes to destroy certain attributes within himself. Lord Shiva is known as the destroyer and the tattoo hence is for the things that Kohli wishes to destroy in him.
4. Monastery Tattoo on the left side of his shoulder
Right next to the Lord Shiva tattoo on Kohli's left arm, he has inscribed a tattoo of a monastery. It is a symbol of peace and power. He has inscribed it to remind himself to keep his calm and focus intact as he steps onto the field. 
While the aggression is his born attribute, he believes his mind needs to be always in control to excel in any thing at the highest level.
Name of his parents on his arms:
Virat has the name of his parents – Saroj and Prem – inked on his both arms. 
5. Prem
It was his father Prem Kohli who took him for coaching at a very young age and he dreamt of seeing his son playing for his nation one day. But unfortunately his father passed away when he was just 18 years of age, even before he made his debut for India. 
6. Saroj
Mother's support has been a key to Kohli's rise as a cricketer. After his father's death mother Saroj Kohli had been his pillar of strength.

"Purely because the connection that I have felt with them is something that is unexplained. It is a feeling, it's not even something that can be put into words. Hence I wanted to make it a part of me until I'm alive." he explained.
7. ODI debut Cap number on his upper left hand:
Kohli made his ODI debut in 2008 against Sri Lanka in Dambulla. On that day he became the 175th player to play One-Day international cricket for India.
8. Test debut Cap number on his upper left hand:
His first match for India in whites happened in 2011 against West Indies in Kingston. That day he become the 269th Indian to play the format.
These are special numbers for any cricketer and Kohli is no different, so he decided to make these magical numbers a part of his body.
"These numbers will always remain with me because when you look back at the charts 200 years from now, in front of these numbers, there will be my name. These will always be special numbers and hence I decided to get them," Kohli said.
9. A Japanese Samurai warrior with a raised sword on his upper left arm:
Kohli believes that he shares some of the characteristics with the Samurais, especially the Bushido code which comprises of 7 virtues – Gi (Justice), Yu (Courage), Jin (Benevolence), Rei (Politeness), Makoto (Honesty), Meiyo (Honor) and Chugi (Loyalty).
He said that he had to fight for everything that he has got in his life so far. And hence this tattoo was a representation of him wanting to do something so badly which was wanting to become a professional cricketer.
10. 'God's eye' on the left shoulder:
No matter what happens or where you are, always remember that someone is watching you. That's the philosophy behind Kohli's getting a God's eye tattoo that keeps reminding him that the Almighty is watching over whatever he is doing.
According to him it makes him understand what the essence of life is and what we need to do as human beings and what our eventual goal is.
11. Om Tattoo just near the 'God's eye':
It is the last tattoo so far that he has got inked on his body. The Om sound is considered universal across the world and is widely recognised as the essence of life. The tattoo keeps Kohli reminding that a human in only a dust particle in the entire universe, hence he should never think bigger of himself.
Never miss an update, visit Google News & FOLLOW US.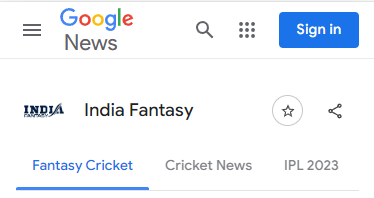 For daily fantasy sports tips on your mobile phone, Fill out the form below