Top 3 gaming laptops under 40000 in April 2023
Updated on: May 23, 2023 11:58 am IST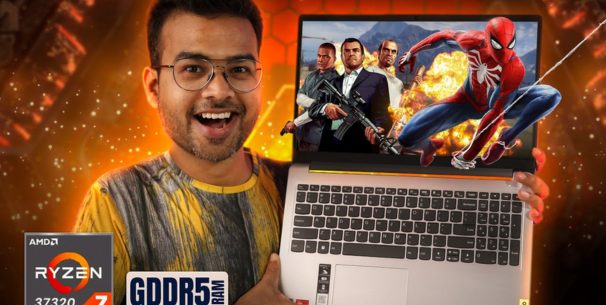 The laptop companies are fiercely competing with each other by launching their innovative gaming laptops. These laptops are popular among the masses for their high-powered graphics cards, processors, spacious storage, and long-lasting designs.
It is difficult for users to figure out which one is suitable for official work or gaming purposes. But one thing is sure: if you buy a gaming laptop, no doubt you can do official work easily. Challenging for you is identifying top-class gaming laptops under Rs 40,000.
If you are sailing in the same boat, this article will get a closer look at your perspective. In this way, you at least get to know world-class 3 gaming laptops under Rs 40000 in April 2023. So here we begin.

Top 3 Gaming Laptops in April 2023
Analyzing every specification takes a bunch of time. But you can save time by seeing our list of the best 3 gaming laptops in April 2023. We check the processor, graphics card, battery, price, and storage because those are essential for powerful and large-sized games.
1. Acer Extensa-EX215-54-Laptop
| | |
| --- | --- |
| Model | EX215-54 (UN.EJS1.033) |
| Operating System | Windows 11 Home Basic |
| Display Size | 15.6 Inches |
| Display Features | Full HD (1920×1080), High-Brightness Acer Comfyview LED-Backlit TFT LCD |
| Processor | Intel Core i3-1115G4 (11th Gen) |
| Clock Speed | 1.7 GHz |
| Graphic Processor | Intel UHD |
| Memory | 8 GB upto 12 GB DDR4 |
| Storage | 256 GB SSD |
| Battery | 2 Cell Li-Ion 45 Watts |
| Price in Amazon (Rs) | 31,990 |
2. Asus VivoBook 15 X515JA-EJ362WS Laptop
| | |
| --- | --- |
| Model | X515JA-EJ362WS |
| Operating System | Windows 11 Home Basic (64 Bit) |
| Display Size | 15.6 Inches (1920×1080 Pixels)  |
| Display Features | LED, Anti-glare, Non-OLED, Full HD, 200 Nits Brightness, 60 Hz Refresh Rate |
| Processor | Intel Core i3-1005G1 (10th Gen) |
| Clock Speed | 1.2 GHz |
| Graphic Processor | Intel UHD |
| Memory | 16 GB DDR4 |
| Storage | 512 GB SSD |
| Battery | 2 Cell-Li-Ion, 45 W AC Adapter |
| Price in Amazon (Rs) | 32,990 |
3. HP-15s-eq2213AU (7G6H2PA) Laptop
| | |
| --- | --- |
| Model | 15s-eq2213AU (7G6H2PA) |
| Operating System | Windows 11 Home Basic |
| Display Size | 15.6 Inches (1920×1080 Pixels) |
| Display Features | Micro Edge, Diagonal, Anti-Glare, 250 nits |
| Processor | AMD Quad-Core Ryzen 3-5300U |
| Clock Speed | 3.4 GHz |
| Graphic Processor | AMD Radeon |
| Memory | 8 GB upto 16 GB DDR4 with RAM Speed of 3200 Mhz |
| Storage | 512 GB SSD M.2/Optane |
| Battery | 3-Cell Li-Ion with 65 watts AC Adapter |
| Price in Amazon (Rs) | 39,990 |
For daily fantasy sports tips on your mobile phone, Fill out the form below