NBA- LeBron James' Top-5 Plays of the 2017-18 season
Updated on: May 21, 2018 12:37 am IST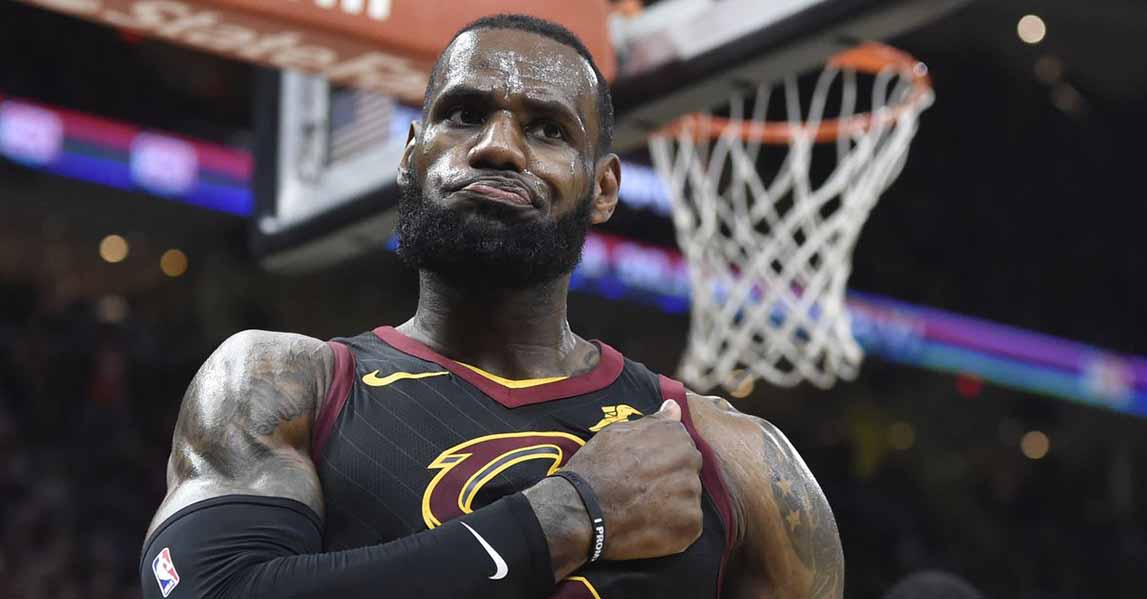 There are players playing for glory and the perks that come with it. Then there are players who just don't fit well with the normal breed of athletes and players. They propagate a long-held perception that perhaps God do favour some humans while engineering those extraordinary beings. Time and time again those athletes and humans defy all the odds and go beyond the human limit.
LeBron James certainly belongs to that Meta-Human category where we, the Ordinary People, can only dream about reaching. As always, he performed quite brilliantly through the 2017-18 season and at times carried his team alone on his broad shoulders. So it was difficult to come up with only five performance, but we tried our best-
Here is the list of LeBron James top-5 Plays of 2017-18 season –
1 – Washington Wizards 122-130 Cleveland Cavaliers
LeBron James – 57 points, 7 Assists, 11 Rebounds
Date – 3rd November
Losing five times in the first eight games, doubts started to circulate over Cleveland Cavaliers' supremacy in the Eastern Conference. For sure on Cavaliers, but LeBron James has gone too far in his career and became too big a figure to being brought into a suspicion room.
But just in case, LeBron reminded who he is and why he is a living legend. In the 9th game of the regular season, James bombarded Washington Wizards with his 2nd career-best outing on a Basketball court, pouring 57 points, an NBA-best this season, and helped Cavaliers snapped their four-game losing streak.
"Every shot that I took, I felt like it was going in," he said after the game.
His career-best remains 61 points which he dropped against Charlotte Hornets in 2014 when he used to play for Miami Heat.
And James did it efficiently against Washington, making 23 of 34 field-goal tries and all nine free throws, adding 11 rebounds and seven assists.
"He still has it, if you guys didn't know that," Wizards coach Scott Brooks said. "We knew that."
2 – Charlotte Hornets 105-118 Cleveland Cavaliers
LeBron James – 41 points, 8 Assists, 10 Rebounds
Date – 29th March
Though he scored many more times in the 40s this season to be included as one of his best performances this season, this game was special in one regard. The 14-time All-Star equalled legendary Michael Jordan's run of 866 consecutive games where he scored in double-digits. James scored 41 points and helped Cavaliers beat Hornets 118-105, and interestingly, Hornets are co-owned by Michael Jordan.
After the game, a jubilant James said – "I can't tell you how I've been able to do it. Any time I'm mentioned with some of the greats, and arguably the greatest basketball player of all-time in Mike, it's just another feat for me to be just appreciative and humbled by what I'm able to do."
3 – Philadelphia 76ers 132-130 Cleveland Cavaliers
LeBron James – 44 points, 11 assists, and 11 rebounds
Date – 6th April
https://www.youtube.com/watch?v=RXxTJn1qKJg

Though his team lost the game 130-132 against an in-form Philadelphia 76ers (on 12 games winning streak heading into this match), we took this game into our consideration for one reason, the very fact that separates the good athletes from the outstanding and legendary figures. If you are looking for some motivation and trying to infuse some hope into your dejected soul then just look it this game.
Despite trailing by a massive 30 points in the first half, James refused to give-up and single-handedly brought his team on the verge of a miraculous win. But 76ers were playing perhaps the best Basketball of that period and the likes of Ben Simmons and J. J. Redick were on fire at that time, so his solo fight went in vain and Cavs ended up losing by just two points. But not before the 14-Times All-Star racked up 44 points, 11 assists, and 11 rebounds.
"You get down 30 in the postseason, that can lose you a series," James said.
4 – Cleveland Cavaliers 98-95 Indiana Pacers, Eastern Conference first-round Game -5
LeBron James – 44 points, 8 assists, 10 rebounds
Date – 26th April
Everything was on the line – The game, the series, and Cavaliers' stuttering season or perhaps this could have been the last time we were seeing LeBron James in Cleveland as a professional Basketball player. But it was delayed as LeBron James, himself, produced something that many didn't see coming.
With the series tied at 2-2, Cavaliers welcomed Indiana Pacers to Quicken Loans Arena for the pivotal 5th game. It was the game of many comebacks and Cavaliers found themselves behind on many occasion on the night. They lost the first two quarters and went into the break trailing by 7 points.
The Cavs then won the 3rd quarter by 15 points and the verge of heading into the over-time. But James robbed Victor Oladipo, took two dribbles and hit his winner over Thaddeus Young.
James said after the game – "As a kid you always have those 3, 2, 1 moments and that's what it kind of felt like. I felt like I was a kid all over again playing basketball at my house on makeshift hoops and my socks as a basketball."
James finished with 44 points, 10 rebounds, eight assists and went 15 of 15 from the line.
5 – Cleveland Cavaliers 105-101 Indiana Pacers, Eastern Conference first-round Game -7
LeBron James – 45 points, 7 Assists, 8 Rebounds
Date – 29th April
LeBron James took Cleveland Cavaliers into the 7th heaven with himself.
Despite suffering from some serious leg cramps in the second half, James didn't sit out the game and dropped a magnificent 45 points in Game 7 to move into the semifinals of the Eastern Conference.
James also added nine rebounds, seven assists to his impressive tally and played for more than 43 minutes in the match. He also improved his first-round playoffs record to 13-0 in the process.
This was the series which will always be remembered for LeBron James' super-human exploits. He is the reason why Cavaliers got past Pacers in the first round as no player in Cavs' ranks averaged in double digits in that series while LeBron made the mockery of statistics with his surreal performances.
"Amazing," Indiana's Victor Oladipo said of James. "He did what he always does. It's not really shocking. He's the best in the world, and that's what the best do and now I gotta work to get on that level."
Do you think there could have been some other game on this list – Do let us know in the comment section.