4 Upsets That Can Happen At The Greatest Royal Rumble

Updated on: Dec 31, 2019 3:04 pm IST

The biggest WWE event in the Middle East on Friday, April 27, 2018, to be held in King Abdullah International Stadium in Jeddah, Saudi Arabia. The event is said to have the largest version of a Royal Rumble match in the history of the WWE with 50 participants. The event also has every title on the line from both the red and blue brands, Monday Night Raw and Smackdown Live. The match card is stacked with 10 matches including the 50 man Royal Rumble.
The very first upset this event caused without even airing was a huge controversy as there will be no match featuring any female WWE superstar. Many fans expressed their anger with the WWE citing that they put profits ahead of female equality. In a time where gender equality is at the height of all media, a huge empire such as the WWE making such a bold move might turn out to be a huge risk.
Here are 4 upsets that can happen at the Greatest Royal Rumble:
#4 Jinder Wins the WWE United States Championship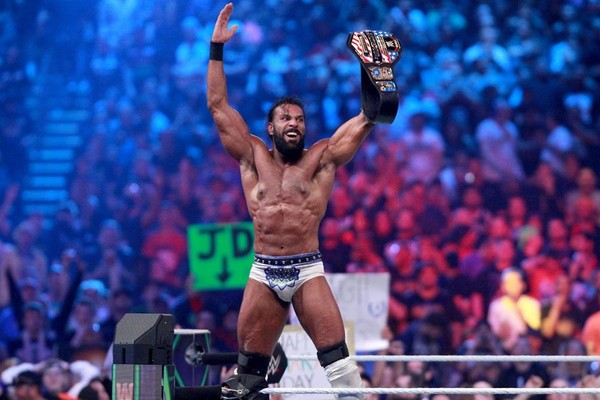 The Modern Day Maharaja, Jinder Mahal won the WWE United States Championship at Wrestlemania 34 too much of the fans disapproval. We WWE fans know that when a heel wins a belt, it's just a matter of time for a huge babyface to win it back in a feel-good moment.
That moment came during the opening segment of Monday Night Raw. It was revealed that Jinder was now on Raw after the Superstar shakeup. He then faced and lost to Jeff Hardy who became the new WWE United States Champion.
Jeff is definitely a better choice as the WWE United States Champion. Not only is he loved by the fans but also puts on great matches, is a huge attraction and adds credibility to the belt. If the WWE gives the belt back to Jinder at the Greatest Royal Rumble, it will go back to being just a belt with the fans not paying any attention to it as the fans hate Jinder.
#3 AJ Styles or Shinsuke Nakamura Wins Clean
Nakamura turned heel at Wrestlemania 34 after losing to AJ Styles clean. The rivalry intensified over the past weeks as Nakamura interfered I AJ's match with the help of Big Cass who took out AJ's partner Daniel Bryan. On the last episode of Smackdown Live, AJ faced Nakamura alone with the Bullet Club, Anderson and Gallows and Rusev and English in a 6 man tag team match.
The match ended with Nakamura hitting AJ with a low blow and Anderson and Gallows with Kinshasa. This feud has enough potential and fan following to go on for the next six months or even a year.

If the WWE makes AJ and Nakamura have a clean match with no shenanigans then this feud will end any momentum it has. Having Nakamura cheat to win only to have AJ overcome the odds and win clean and then have Nakamura attack AJ post-match will build this feud even better.   Even having AJ low blow Nakamura to win will also build this feud.
#2 Brock Lesnar Retains after a Boring Match
After a very boring match that saw Roman being busted open by Brock at Wrestlemania 34, the stakes are up now in a steel cage. Again the Universal Title is on the line, again Brock is facing Roman, again the fans hate Roman. Nothing has changed except the fact that now it is inside a steel cage.
Now having the Beast and the Big Dog inside a steel cage should lead to a hardcore match. But knowing the WWE and how lazy Brock is, the match will be a rehash of Wrestlemania 34. Brock will hit Roman with a ton of suplexes and the Big Dog will overcome that and try to win till Brock hits Roman with 500 F5s for the win.
Putting these two inside a steel cage should've been done at Wrestlemania 34 as it would've resulted in a better match. Having a match inside a steel cage should be booked as a hardcore match. It should not be slow, it should not be boring and it should not be PG. With guys like Roman and Brock who are big and powerful, a hardcore, bloody brawl is easy to get.
#1 Some Random Wrestler wins the 50 man Royal Rumble.
And finally the biggest highlight of the night, a never before seen, 50 man Royal Rumble. If you've seen a Royal Rumble match before you know, it's chaos at the start and interesting by the end. These match have been a staple at WWE events as it has some of the best surprises of the night with sudden, unexpected returns, arrivals, debuts etc.
With 50 men in this one match, the surprises are sure to be plenty. The other thing fans know about a Royal Rumble match is that it is pointless. The winners never feature in any major storyline and the match are usually just filler.
If the WWE wants to reap the benefits of having the largest version of this match till date, they need to pick someone who can hold the title as the "50 man Royal Rumble Winner" and carry it with pride. Daniel Bryan or Braun Strowman will be perfect winners.