10 Lines on Sachin Tendulkar
Updated on: Jun 5, 2023 12:16 pm IST
Sachin Tendulkar, also known as the "God of Cricket," is an iconic figure in the world of sports.
10 Lines on Sachin Tendulkar
Here are 10 Lines on Sachin Tendulkar.
Sachin Tendulkar was born on April 24, 1973, in Mumbai, India, and is considered one of the greatest cricketers of all time.
He holds numerous cricket records, including being the highest run-scorer in international cricket history.
Tendulkar's technique, consistency, and immense talent set him apart from his contemporaries, earning him the title of the "God of Cricket."
He displayed exceptional skill and determination throughout his career, maintaining a remarkable level of performance over two decades.
Tendulkar's ability to adapt to different formats of the game, be it Test matches, One-Day Internationals (ODIs), or Twenty20 cricket, showcases his versatility.
His elegant stroke play, impeccable timing, and exquisite shots enthralled cricket fans worldwide, leaving a lasting impact on the sport.
Tendulkar's humility, professionalism, and sportsmanship have made him a role model for aspiring cricketers and sports enthusiasts.
He has achieved several accolades, including the Bharat Ratna, India's highest civilian award, for his outstanding contributions to cricket.
Tendulkar's passion for the game, dedication to improvement, and relentless pursuit of excellence inspire countless individuals to chase their dreams.
Sachin Tendulkar's influence on the game of cricket extends beyond statistics; he has become a symbol of inspiration and the epitome of cricketing greatness, earning him the esteemed title of the "God of Cricket."
Related Sachin Tendulkar Wife
Why Sachin Tendulkar is so popular?
Sachin Tendulkar's popularity can be attributed to several factors:
Exceptional Skill: Tendulkar's unmatched batting skills and technique captivated cricket fans worldwide. His ability to dominate bowling attacks and play breathtaking shots made him a joy to watch.
Longevity and Consistency: Tendulkar's career spanned 24 years, during which he maintained a consistently high level of performance. His longevity in the game allowed fans to witness his brilliance over an extended period.
Record-Breaking Achievements: Tendulkar holds numerous records, including being the highest run-scorer in international cricket. Breaking and setting new records throughout his career added to his legendary status and garnered widespread admiration.
National Hero: As an Indian cricketer, Tendulkar carried the hopes and dreams of a cricket-crazy nation on his shoulders. His success in representing India and bringing glory to the country elevated his popularity to immense heights.
Humility and Sportsmanship: Despite achieving unprecedented success, Tendulkar remained humble and grounded throughout his career. His sportsmanship and respect for the game endeared him to fans and earned him respect from opponents as well.

Relatability: Tendulkar's story resonated with millions. He started playing cricket at a young age and overcame numerous challenges to reach the pinnacle of the sport. Fans admired his determination, hard work, and his ability to stay true to his roots.
Role Model: Tendulkar's exemplary conduct both on and off the field made him an ideal role model for aspiring cricketers and youngsters. His dedication, discipline, and professionalism set a benchmark for success.
Global Appeal: Tendulkar's popularity extended beyond India. He had a massive fan base worldwide, with cricket enthusiasts from different countries admiring his talent and appreciating his contributions to the game.
Charitable Work: Tendulkar's involvement in philanthropic endeavors and his efforts to give back to society further enhanced his popularity. His charitable initiatives, such as supporting education and healthcare, made him an even more respected figure.
Timeless Legacy: Even after his retirement, Tendulkar's legacy continues to inspire and influence the next generation of cricketers. His impact on the game and the love and adoration he received from fans have ensured his enduring popularity.
Follow us on Google News
Never miss an update, visit Google News & FOLLOW US.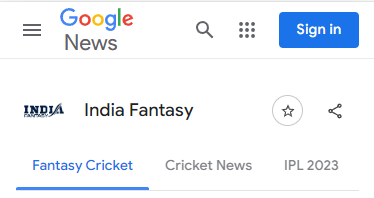 For daily fantasy sports tips on your mobile phone, Fill out the form below