#Battle of Bristol- Highlights of the third 3rd T20I
Updated on: Jul 9, 2018 2:58 pm IST
JASON ROY'S MAGNIFICENT PERFORMANCE

Jason Roy's 67 was the crucial factor in England reaching a good score of 198/9.
However, Rohit Sharma was the star of the night and his 89-run stand with Virat Kohli put India on course for a win.
After Kohli fell for 43, Rohit stepped up and he was well supported by Hardik Pandya.
Rohit completed his third century and along with Pandya's batting, helped India win the match by seven wickets and win the series 2-1.
ROHIT SHARMA HITS HIS THIRD THUNDERING T20I CENTURY
Rohit Sharma gave India a good start but was not given support by Shikar Dhawan.
K L Rahul looked good after hitting big sixes but had to depart for 19 runs.
But Virat Kohli and Rohit Sharma handled everything in an excellent manner and managed to put 150 runs for India on board.
After the wicket of Kohli, Hardik Pandya came to the crease ahead of Raina and Dhoni.
Also Read: Dhoni sets new record against England
Rohit Sharma scoring an excellent century and Hardik Pandya constantly hitting boundaries and 6s led India to win this match and series by 2-1.
India won the match by 7 wickets with 1.2 overs still remaining.
It's their 8 consecutive series win in a 3 match series.
ENGLISH PLAYERS GAVE UP EASILY
England had a start by Buttler but Roy lost his wicket. Siddarth Kaul rescued India by getting the wicket of dangerous Jos Buttler who had to depart for 34 runs.
Jason Roy smashed balls out of the boundary from the other end even after the departure of Buttler and got England their 100 runs.
Deepak Chahar struck for India and got the wicket of Roy caught by MS Dhoni England 111-2 after 10 overs.

Hardik in his final overtook two back to back wickets of Ben Stokes and Jonny Bairstow after which Umesh Yadav stunning David Willey with a brilliant yorker blind sighted David Willey and got his wicket easily.
Rohit Sharma was awarded Man of the Match award.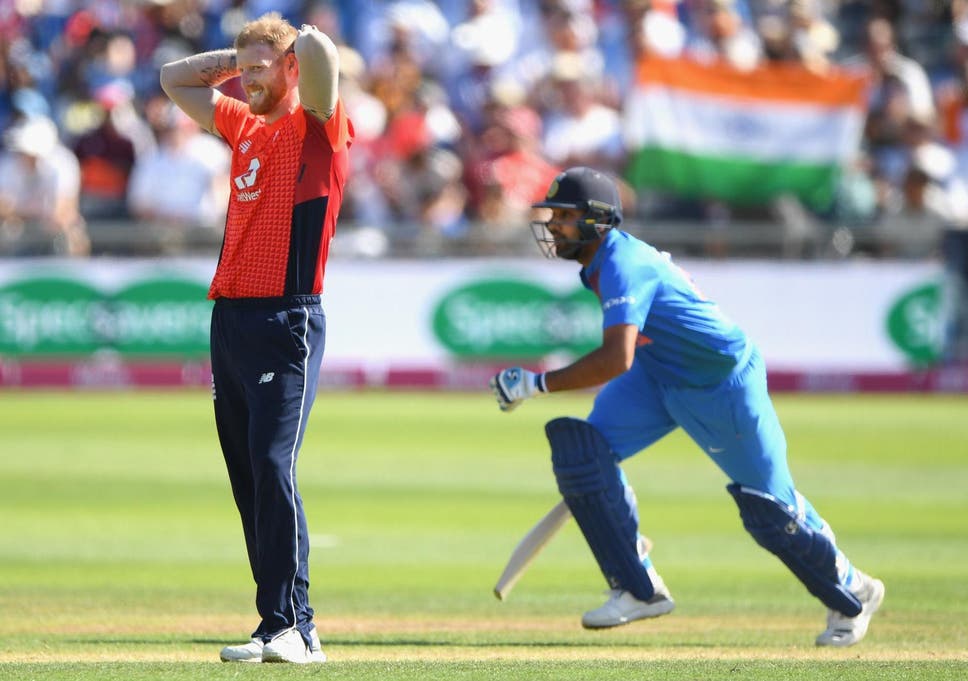 INDIA'S OVERALL SHOW
India rested Kuldeep Yadav and Bhuvneshwar Kumar and included Siddharth Kaul and debutant Deepak Chahar in the decider against England.
England got off-the-mark quickly as English opening batsmen Jason Roy (67 off 31 balls) and Jos Buttler (34 off 21) created some early trouble for the visitors.  England brought up 70 runs in the powerplay.
Evidently, Indian bowlers were not having a great day and the target of 215-230 didn't look far.
But, they made a quick comeback and restricted the hosts under 200.
India in reply came all-guns-blazing to counter-attack the hosts and achieved the target with eight balls to spare.
BRIEF SCORES:
ENGLAND-
Jason Roy- 67 off 31 balls
Jos Buttler- 34 off 21 balls
Ben Stokes-  0/11
INDIA- 
Rohit Sharma- 100 off 56 balls
Virat Kohli- 43 off 29 balls
Hardik Pandya- 4/38