MS Dhoni: Match Fee, Salary, Income, Net Worth, IPL Earnings, Endorsements, Charity Work
Updated on: Oct 22, 2020 6:22 pm IST
MS Dhoni is arguably the most successful player that India has produced across all the sports. He has achieved everything that is up for grabs in the cricketing world. And he is not far behind off the field as well.

MS Dhoni has built his brand image steadily across the span of his career. He has stayed away from any controversy during these times and comes across as a reliable and popular sports personality in any age group of public. As a result, MS Dhoni is trusted by many corporates to endorse their products. We will take a tour of various sources from where MS Dhoni earns his income along with his various business ventures.
MS Dhoni Match Fee
MS Dhoni is officially retired from the longest format of the game and his playing future for the other two formats as an India international is also uncertain. But when it comes to match fee for each international match, it is decided by BCCI every year. Both contracted and non-contracted players receive this fee as per matches they play during the year. Match fees break up is as follows:
Test Matches: INR 15 Lacs/match
ODI Matches: INR 6 Lacs/match
T20I Matches: INR 3 Lacs/match
Apart from this, players also receive individual awards given by the additional sponsors after each match. There is also a structure for performance bonuses by BCCI on the basis of both individual and team performances during each international series. These bonuses would also increase when team India plays a test series against tier-I sides or an ICC event.
MS Dhoni Salary
The Board of Control for Cricket in India (BCCI) is the richest governing body in the game and when it comes to player remuneration, they are second to none. Players are given annual salaries basis on their contract grades. These grades are decided by their past performances and number of formats they play.
MS Dhoni was in the grade 'A' group of players until last year and he was receiving 5 Cr every year. But due to uncertainty around his playing future at the international level, he was not included in the latest list of contracted players for the season 2019-20. Hence, as of this year, he won't receive an annual salary from BCCI.
Top 5 highest-earning India Women Cricketers
MS Dhoni Income per year and Earnings
In 2015, MS Dhoni was at 23rd rank on the Forbes' list of highest-earning sports players with an approximated yearly income of US $31 million. His stocks have come down gradually due to twilight period of his playing career but he is still earning around the US $22 million every year according to a report on a news website. Most of his earnings are from IPL salary and endorsements currently.
MS Dhoni Net Worth
According to a leading lifestyle website, MS Dhoni is well ahead of some of the biggest names in bollywood industry in terms of net worth. The net worth of MS Dhoni is estimated to be around 750 to 800 Cr at the end of 2019. He is only behind Virat Kohli when it comes to sport-persons in India.
MS Dhoni IPL Earnings
MS Dhoni was picked up by Chennai Super Kings in the very first IPL auction in 2008 at a massive price tag of US $1.5 million. This buy was based on his early success in the T20 format which led India to WT20 triumph in 2007. At that time, nobody had imagined that this bonding between MS Dhoni and CSK would only become stronger with the time and would materialize into one of the golden chapters in the moneyball league's history. Over the years, MS Dhoni and yellow jersey have become synonyms of each other. Their fan base has only grown each year and the fans pack Chepauk to the rafters each time MS Dhoni play on the coast of Marina. As a result, CSK doesn't hesitate in paying a hefty amount to the superstar, INR 15 Cr for every season to be precise.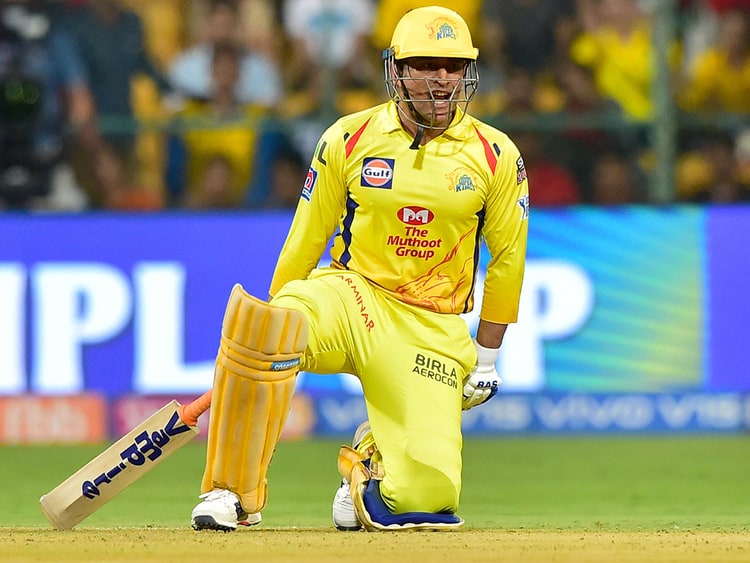 MS Dhoni Endorsements
MS Dhoni is known for his calm temperament on the field and when it comes to building his brand, he has also gone about in the same manner almost. This Ranchi boy is a personality that generates trust among people from any background, and that is the exact reason why companies believe that they can take gambles on any products with MS Dhoni at the front deck.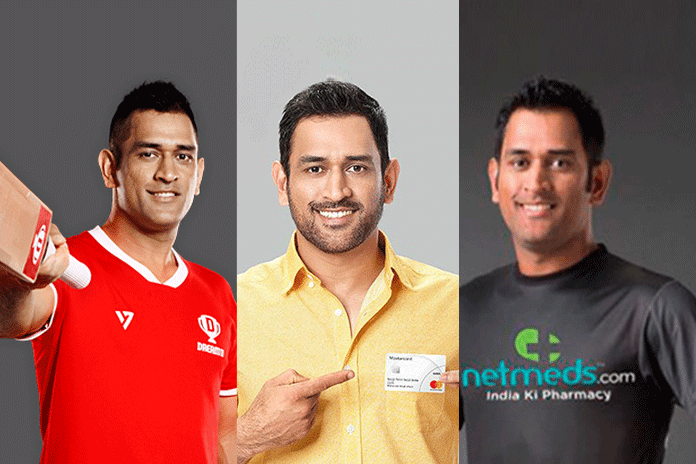 From FMCG to electronics and from banking to automobiles, MS Dhoni endorses brands from every segment. This list includes Cars24, Indian Terrain, RedBus, Colgate, Panerai, LivFast. Indigo Paints, GoDaddy, Bharat Matrimony, Mastercard India, Sumadhura, Snickers India, Orient, Netmeds, Sound Logic, WardWiz, SRMB Steel, Lava, Zed Black Agarbatti, Gulf Oil India, Dream11, Reebok, Exide Life Insurance, Pepsico, Boost, Amity University, TVS, etc. MS Dhoni charges around 1.5 Cr per day for his endorsement commitments.
MS Dhoni Business, Assets
Sports are very close to MS Dhoni's heart and most of his investments and assets are around that only. We will look at how the business side of his brain has helped him to build steady income even apart from cricket and endorsements.
Sports apparel brand 'Seven' approached MS Dhoni to hire his services as a brand ambassador but MS Dhoni went one step further. He decided to take a stake in the brand and now he owns the footwear aspects of the brand.
Everyone knows that MS Dhoni is a fitness freak and he spends most of his time in gym. He decided to establish a brand called 'SportsFit World Pvt. Ltd' with a vision to make India fitter. SportsFit owns over 200 gyms across the country.
Here is one interesting fact that very few fans know: MS Dhoni also owns a hotel called 'Hotel Mahi Residency'. This is not a franchise model and only has a single outlet located at Ranchi.
MS Dhoni has invested in various sports leagues across the world. He owns a part in ISL team Chennaiyin FC as he is closely connected with the game of Football. He has also invested in Ranchi based hockey team Ranchi Rays. MS Dhoni has a thing for his bikes and racing, which is also visible in his investment in a racing team at the Supersport World Championship. This team is called as 'Mahi Racing Team India'.       
MS Dhoni Charity Work
MS Dhoni Charitable Foundation holds various charity matches and the proceeds from these matches go in the support of the Indian Army. This foundation was established in 2010 and currently managed by Rhiti Sports.