AUS vs ITA Dream11 Hockey | AUSTRIA vs ITALY FIH Series Finals Preview
On Sunday this weekend the losers from the semifinals, which are Austria and Italy, will face off each other for one last time in the next fixture of FIH Series Finals. Earlier this Friday both the teams lost the semifinal matches, as Austria lost against Malaysia while Italy lost against Canada. Now the losing teams will be playing the match for the 3rd place tomorrow 5th May 2019, in Kuala Lumpur, Malaysia.
FIH Men's Series Finals Kuala Lumpur 2019 (03 May 2019)

Half Time Result (Semi-finals)

Austria @hockeyverband 0-1 Malaysia

11' PC Faizal Saari pic.twitter.com/3FOQdecDCA

— MHC (@hockeymalaysia) May 3, 2019
Italy began their journey in the most ideal manner defeating China, Brazil and the host team Malaysia and made its mark to the semi-finals but it was far too difficult for them to defeat the top-ranked team Canada (World Rank: 10).
Whereas for the Austrian team the tournament has been quite challenging and with the bittersweet moment they travelled this far but couldn't sail till the end. But there is still hope for both the teams to capture the third place in the league and they will be giving their heart and soul to win this one.
AUT vs ITA Team News
There is no report of any team changes or injury update in the two squads.
Match Details
04 May 2019, 17:50
15:20 your time
Venue: Kuala Lumpur, Malaysia
Austria vs Italy Hockey squads
Austria Hockey squads- Bartosz Szmidt, Xaver Hasun (C), Mateusz Szymczyk, Jolyon Morgan, Philip Schmidt, Patrick Schmidt, Benjamin Stanzl, Oliver Binder, Florian Steyrer, Michael Minar, Franz Lindengrun, Robert Bele, Leon Thörnblom, Oliver Kern, Benjamin Melinc,  Clemens Rusnjak, Mathias Podpera, Dominic Uher, Hannes Podpera, Fabian Unterkircher, Patrick Stanzl, Bernard Schmidt and Daniel Fröhlich
Italy Hockey squad: Agustin Nunez (C), Enrico Francesconi, Nicolas Mondo, Juan Montone, Frabcesco Padovani, Simone Minetto, Julian Montone, Luca Valentino, Giaime Carta, Mattia Amorosini, Pietro Lago, Juan Ortega, Julien Dallons, Gonzalo Ursone, Simone Pagliara, Davide Grossi, Thomas Keenan, Giulio Ferrini, Juan Munafo and Francois Sior.
ML vs AUT Dream11 Players:
Austria Fantasy Picks: Xaver Hasun, Mateusz Szymczyk, Benjamin Stanzl, Florian Steyrer, Leon Thörnblom, Dominic Uher and Daniel Fröhlich
Italy Fantasy Picks: Agustin Nunez, Julian Montone, Thomas Keenan and Francois Sior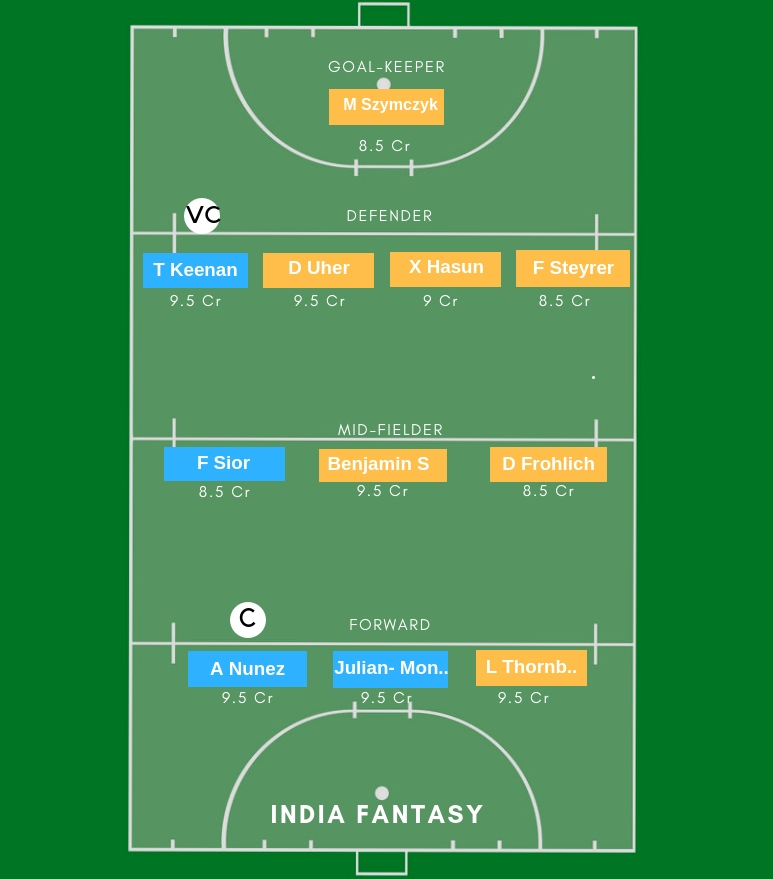 Dream11 Captain Choices: Agustin Nunez, Xaver Hasun and  Thomas Keenan
This AUT vs ITA Dream11 Hockey Prediction is based on news sourced from various sources. We suggest you pick your playing 11 from the squad listed above basis AUT vs ITA team news. Kindly revisit before the deadline to get the final update of the AUT vs ITA Dream11 Team Prediction.
IPL Fans who are obsessed with their favourites players here is the funniest Spoof Video of all times.