ARG vs SER Dream11 Prediction – FIBA Basketball World Cup 2019 | Argentina vs Serbia Fantasy Team
Updated on: Sep 9, 2019 7:08 pm IST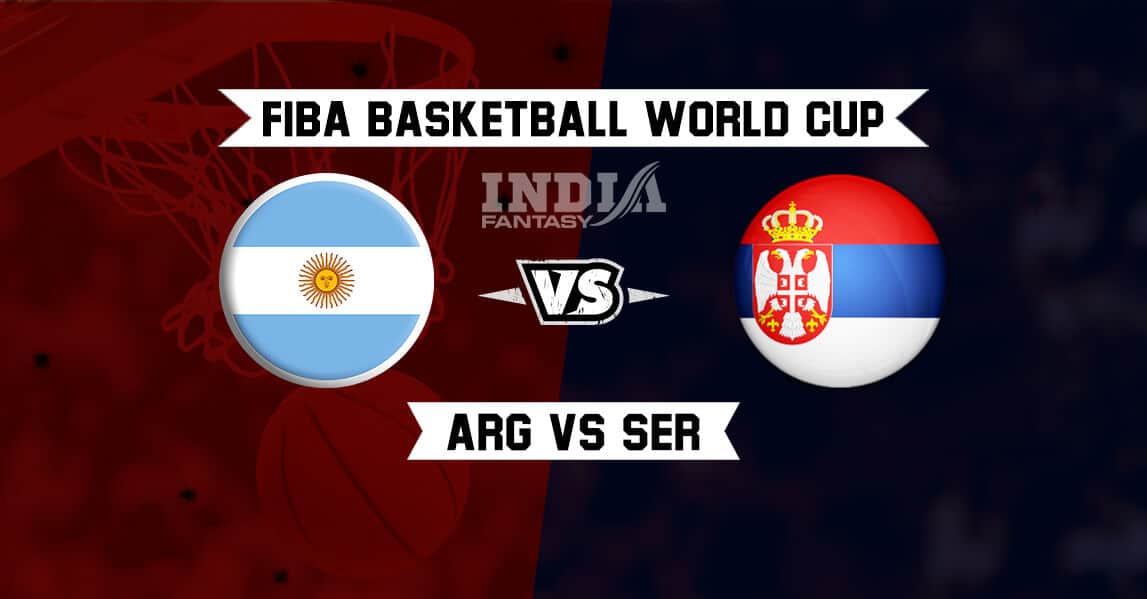 ARG vs SER Dream11, FIBA World Cup 2019, Prediction and Fantasy Team News
The quarterfinals kick-off at the 2019 FIBA Basketball World Cup with Argentina and Serbia meeting in te first game at Dongfeng Nissan Cultural and Sports Centre.
---
MATCH DETAILS:
What competition it is? FIBA World Cup 2019
The match will be played between Argentina and Serbia at Dongfeng Nissan Cultural and Sports Centre, in Dongfeng, China. The arena has a capacity of 16,133.
Match Day: September 10, 2019, @ 04:30 PM IST
---
To get exclusive fantasy tips, enter your name and phone number below.
[create_form]
---
Argentina:
Argentina are one of the four unbeaten teams remaining in the FIBA World Cup 2019. That tag will be tested when the South American team come up against Serbia in the quarterfinals.
But Argentina have done themselves proud in China, showing why they are being seen as a genuine contender for the medals in Olympics next year. They won the group ahead of Russia, followed by two second-round stage wins over Venezuela and Poland respectively.
That said, there are no reasons why the 1950 Champions should not aim for the glory, considering the USA are not at the untouchable level.
---
Serbia:
Meanwhile, Serbia's unbeaten run was snapped by Spain, who were clearly the better of the two in the 2nd game of the second round stage.
Bogdan Bogdanovic was unhappy and vented out his frustrations in the post-match media interaction despite scoring a double-double. The Sacramento Kings start ended the game with a game-high 26 points and 10 rebounds.
But the worrying signs for the Serbians is Nikola Jokic's performance right throughout the campaign. Denver Nuggets' big-man has hardly shown his NBA form in China, with the game against Spain his worst ever in the tournament.
---
ARG vs SER Dream11 Team News:

Argentina:
Though there are no injury concerns for Argentina ahead of this game, head coach Sergio Hernández may still make changes to his starting five.
Nico Laprovittola may be drfated back into the five, with Facundo Campazzo coming off the bench. However, both the players should clock more than 20 minutes in this game.
---
Serbia:
Head coach Aleksandar Đorđević may go start Nikola Jokic for the first time in this tournament.
---
Squad for the FIBA World Cup 2019:
Argentina squad:
Facundo Campazzo, Agustin Caffaro, Maximo Fjellerup, Marcos Delia, Luca Vildoza, Luis Scola, Nicolas Brussino, Gabriel Deck, Lucio Redivo, Patricio Garino, Tayavek Gallizzi
---
Serbia Squad:
Marko Simonovic, Stefan Bircevic, Marko Guduric, Bogdan Bogdanovic, Nikola Milutinov, Stefan Jovic, Boban Marjanovic, Nikola Jokic, Vasilije Micic, Nemanja Bjelica, Vladimir Lucic, Miroslav Raduljica
---
ARG vs SER Dream11 Teams (Starting Lineup; Probables):
Argentina: Patricio Garino, Facundo Campazzo, Marcos Delia, Luis Scola, Nicolas Brussino
Serbia: Nikola Jokic, Stefan Bircevic, Vladimir Lucic, Bogdan Bogdanovic, Stefan Jovic
---
Likely to feature from the bench:
Argentina: Nico Laprovittola, Gabriel Deck, Maximo Fjellerup, Luca Vildoza, Lucio Redivo, Tayavek Gallizi, Agustin Caffaro
Serbia: Boban Marjanovic, Vasilije Micić, Marko Guduric, Marko Simonovic, Nemanja Bjelica, Nikola Milutinov, Miroslav Raduljica
---
INDIA FANTASY PREDICTION
Argentina are unbeaten, but Serbia have a better roster on paper. It's  50-050, but the European team may just about edge this out.