CHA vs MIL Dream11 Prediction NBA Live Fantasy Basketball Dream11 Team, Top Picks and Tips for Charlotte Hornets vs Milwaukee Bucks
Updated on: Jan 8, 2022 12:00 pm IST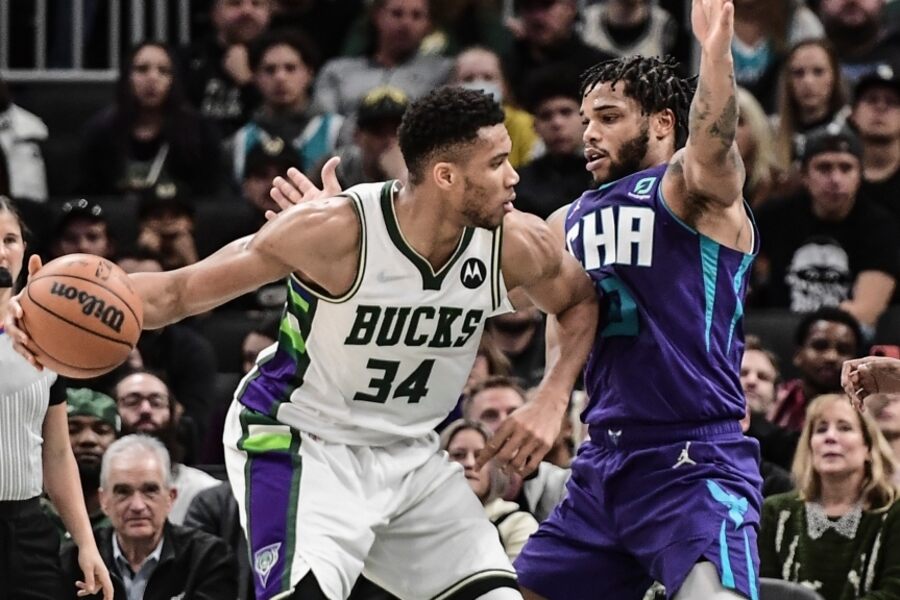 CHA vs MIL Dream11:With the COVID-19 again baring its fangs, the NBA has had to become more flexible in terms of quarantine rules and signing of players on ten-day deals. This means a couple of things. First, it has been among a few major leagues that have kept going on and have fielded around 99% of its games since the Omicron outbreak, and secondly, a lot of players have hit the floor this season at different times for different teams. And at times, the same players have played for different teams over the course of the season.

Anyway, here, the Charlotte Hornets will host the Milwaukee Bucks in a classic Eastern Conference battle. Bucks have 11 more wins than losses and well as defending champions, this is barely a surprise. On the other hand, the Hornets follow a trail of win, loss, win, loss these days and have been unable to strike a big winning streak, sitting with 20 wins and 19 losses.
The Bucks have a ton of players in protocols and all their major guards in Jrue Holiday, Grayson Allen, Donte DiVincenzo, and Pat Connaughton were sidelined during the last game, and still, the team beat a James Harden and Kevin Durant laced Brooklyn Nets. How so? Well, as long as you have Antetokounmpo in the mix along with Middleton and Portis in the frontline, you can take away games.
Hornets are a high-scoring unit and have clinched high totals throughout the season. Their defense hasn't been the most prolific and has held the back. The Hornets can study the case of the Grizzlies, who were scoring high numbers like them but were not defending well earlier in the season, however, they have become a superb defensive unit recently. Can the Hornets fix their flailing defense?
Host: Charlotte Hornets
Visitors: Milwaukee Bucks
Match Timing: 9 January, @ 05:30 AM
Venue: Spectrum Center
NBA Projections, Stats & Analysis
Match-ups
In this game, the Hornets can face a lot of trouble stopping the frontline of the Bucks. Giannis, Middleton, and Portis are all lengthy, athletic, versatile offensively, and can finish in fastbreak and halfcourt situations alike. The Hornets have no one who can match up against them on the defensive end, and they neither have the size nor the athleticism to keep up with these three. So, this is an area where I give the Bucks an overwhelming edge and a decisive edge. The frontcourt of the Bucks can also give trouble on the frontline, and the team can scrap out rebounds and limit the Hornets' wing position and the virtually non-existent big Forward position compared to the Bucks but yes Bridges and Hayward are big-time scorers at the wing.
One area where Hornets have the edge is the backcourt. Terry Rozier, Kelly Oubre Jr., and LaMelon Ball are going to have a significant edge over the watered-down Bucks' guard position. In terms of shooting and playmaking, this is an area where the Hornets can claim a lot of advantage. In terms of bench, the Hornets have a considerable edge since many main players are out for the Bucks. Still, with Giannis, Middleton, and Portis up-front, the team can dilute multiple match-up advantages. This is the percentage-wise match-up scenario in my humble opinion:
Frontline:
Middleton+Antetokounmpo+Portis(Bucks) vs Bridges+Hayward+Plumlee(Hornets):
Bucks: 67%    Hornets 33%
Backcourt
Ball+Rozier(Hornets) vs Matthews+Nwora(Bucks)
Hornets: 72%     Bucks 28%
Bench
Hornets 71%     Bucks 29%
Overall:
Bucks 56%     Hornets 44%
The Antetokounmpo factor gives the Bucks an edge.
Milwaukee Bucks | Charlotte Hornets
Games: 41| 39
Wins: 26| 20
Defeats: 15| 19
Charlotte Hornets vs Milwaukee Bucks NBA Live, Team News and Lineups
Charlotte Hornets Team News
Vernon Carey Jr. is OUT For the game
Hornets Expected Starting Five
Wings: PF: Gordon Hayward   SF: Miles Bridges
Middle: C: Mason Plumlee
Guards: SG: Terry Rozier            PG: LaMelo Ball

BENCH: Jalen McDaniels, Kelly Oubre, Cody Martin, PJ Washington, Kai Jones, JT Thor, Ish Smith, Scottie Lewis, James Bouknight, Arnoldas Kubolka.
.Milwaukee Bucks News:
Brook Lopez is OUT for the game.
Khris Middleton is OUT for the game
Semi Ojeleye is OUT for the game
Bucks Expected Starting Five
Forwards: SF: Khris Middleton   SF: Jordan Nwora   PF: Giannis Antetokounmpo
Middle: C: Bobby Portis
Guard: SG: Wesley Matthews
BENCH: Rodney Hood, Semi Ojeleye, Jeff Dowtin, Langston Galloway, Luke Kornet, JaVonte Smart, Thanasis Antetokounmpo, George Hill, Georgios Kalaitzakis, Sandro Mamukelashvili.
NBA Scores, Fantasy Basketball Top Picks
Giannis Antetokounmpo (MIL)
Points: 31
Rebounds: 07
Assists: 09
Giannis is one of the best players in the league right now and perhaps the most difficult player to stop when going for drives to the hoop. His scoring is in combination with high-quality rebounding and passing. He has scored 25+ points, grabbed 10+ rebounds, dished 5+ assists, and clinched 1+ blocks/steals a game regularly. 'The Greek Freak' can be selected as a Star/Pro Player in the Dream 11 NBA Fantasy scenario.
Expected Fantasy Points Range: 57-77

LaMelo Ball(CHA)
Points: 12
Rebounds: 08
Assists: 12
Steals: 01
Blocks: 01
Ball has been one of the best all-around players in the league in his young career already. The Guard has shown his high-level play in the sophomore season too and he has been lodging 17-21 points, 5+ rebounds, and 6+ assists a game regularly.
Expected Fantasy Points Range: 49-59
Khris Middleton (MIL)
Points: 20
Rebounds: 06
Assists: 05
Steals: 02
Khris is one of the most talented wings right now and can score off the dribble and off the catch equally well. Add superb rebounding, passing, and defense to that, and you get an all-around SF. The Forward has figured in 20-25 points, 5-8 rebounds, and 4-6 assists range per game regularly.
Expected Fantasy Points Range: 30-49

Terry Rozier(CHA)
Points: 16
Rebounds: 03
Assists: 06
Rozier is a high-quality isolation guard who has a lot of ways to put the ball in the hoop. Terry has been filling the scoring column and has scored 25 or more in three of the last five games while his usually scoring range is 16-19.
Expected Fantasy Points Range: 41-52

Bobby Portis(MIL)
Points: 25
Rebounds: 12
Assists: 02
Blocks: 01
Portis has shown that he is a starting-level player and can end up featuring in the main five for many other teams as well. The big Forward/Center has scored 25 in the last game but usually figures in the 12-18 points and 6-10 rebounds range per game these days.
Expected Fantasy Points Range: 30-41
Kelly Oubre Jr.(CHA)
Points: 32
Rebounds: 06
Assists: 00
Steals: 02
After a terrific start to the season, Hayward finished the December month with a cold shooting stretch but has shot comparatively better in the last two games. Will the wing get back to scoring 16-22 points a game while seeing an increase in rebounding and assists like earlier?
Expected Fantasy Points Range: 30-41
CHA vs MIL DREAM11 LINEUP BALANCERS
Gordon Hayward(CHA) had 19 points, 6 rebounds, 4 assists,

1 steal

in the last game. After a relatively colder late December spell, the Small Forward has dipped in 18 or more points in three of the last five games.
Jordan Nwora(MIL) had 13 points, 2 rebounds in the last game. Nwora is a deep-bench player who has responded well when his number is called, scoring 10+ points when getting 20+ minutes.
Mason Plumlee (CHA) had 5 points, 7 rebounds, 1 assist in the last game. Mason has scored in the 5-8 points and grabbed around 7 rebounds consistently.
Wesley Matthews(MIL) had 12 points, 7 rebounds,

1 assist,

1 block in the last game. Matthews can be expected to score 10+ as long as the major guards of the teams are absent.
PJ Washington(CHA)

had

14 points, 8 rebounds, 4 assists, 1 steal i

n the last contest. PJ has consistently scored in 11-16 points range while performing other maneuvers well too.

Jalen McDaniels (CHA) had 9 points, 5 rebounds, 2 assists,

1 steal

in

the last contest. The Power Forward has been chipping in 7-12 points regularly.
Rodney Hood(MIL) had 10 points,

2 steals

in the last game. Hood can score in the 8-12 points range when given the opportunity.
CHA vs MIL Dream11 Team
PG: L Ball(PP)
SG: T Rozier, K Oubre
SF: G Hayward, W Matthews
PF: G Antetokounmpo(SP), J Nwora
C:    B Portis



If you like our Dream11 Prediction Tips, please share this article with your friends, who are also interested in playing Dream11 Fantasy Leagues. Don't forget to follow us on Twitter, Telegram, and YouTube for the best Dream11 Fantasy Tips.
Where to watch NBA Live Score?
Now since the TV channels and streaming services VH1, MTV, Voot, and JIO TV are not going to broadcast the game for Indian viewers, let me keep repeating the same thing. Well, get the annual subscription of the NBA League Pass and have access to all the live streams and full game replays, which means no hassle for certain channels or platforms to show the game. Also, go to the official website of the NBA for the scores.