NYM vs AB Dream11 Prediction | MLB, Major League Baseball | New York Mets vs Atlanta Braves, 29 July
Updated on: Jul 29, 2021 3:32 pm IST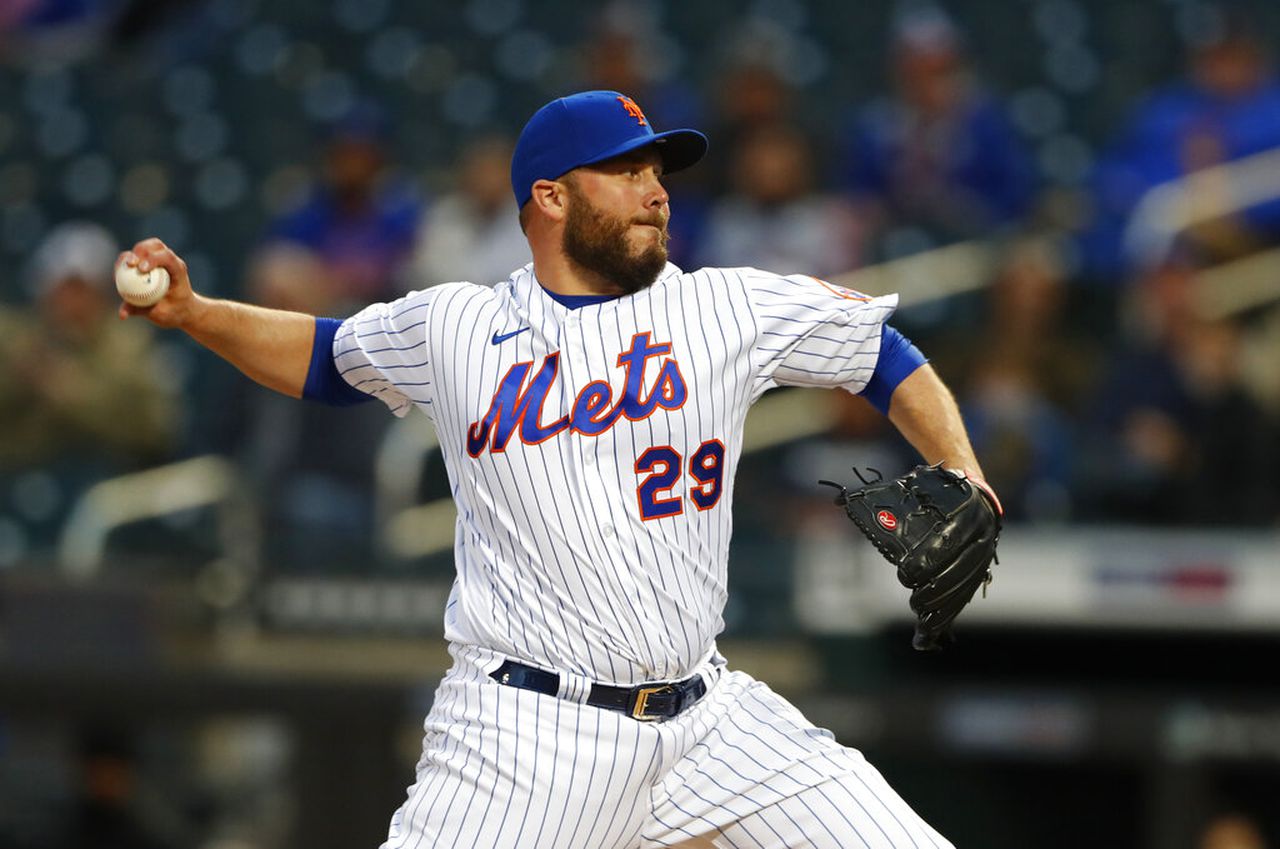 NYM vs AB Dream11 Match Prediction: It was the game of "Pitchers" as Tylor Megill and Max Fried both combined for a whopping 14 strike-outs. New York Mets' run in the bottom of the 3rd inning was cancelled out by Austin Riley's home in the top of the sixth inning which also ended Tylor Megill's presence on the mound. But it was Mets' great fielding effort separating both teams in the end. Mets' Pitcher Edwin Diaz was hit for a leadoff double in the inning, but on the subsequent base hit Michael Conforto came firing down with a bullet throw home and James McCann did the rest, putting down a fabulous tag to protect the one-run lead. Diaz then forced Pablo Sandoval to fly out and the Mets won 2-1 and improved to 3-2 in the last five games. The final contest of this five-game series, which is tied 2-2, will be played at Citi Field on Thursday night (IST).

---
Match Details
Date: 29/07/2021
Venue: Citi Field
Time: 11:30 AM IST
Recent form
New York Mets: W L W L W
Atlanta Braves: L W L W L
---
NYM vs AB Dream11 Team Prediction
Record This Season:
New York Mets | Atlanta Braves
Games Played: 100 | 102
Wins: 54 | 50
Defeats: 46 | 52
---
New York Mets vs Atlanta Braves Top Picks
1. Dominic Smith
Games: 92
Runs: 36
Hits: 79
Home Runs: 11
2. Francisco Lindor
Games: 87
Runs: 49
Hits: 71
Home Runs: 11
3. Pete Alonso
Games: 86
Runs: 46
Hits: 82
Home Runs: 22
4. James MacCann
Games: 84
Runs: 21
Hits: 64
Home Runs: 08
5. Jonathan Villar
Games: 77
Runs: 36
Hits: 54
Home Runs: 10
6. Ozzie Albies
Games: 96
Runs: 60
Hits: 98
Home Runs: 16
7. Dansby Swanson
Games: 98
Runs: 43
Hits: 88
Home Runs: 17

8. Freddie Freeman
Games: 97
Runs: 70
Hits: 105
Home Runs: 23
9. Austin Riley
Games: 97
Runs: 47
Hits: 96
Home Runs: 17
10. Ronald Acuna
Games: 82
Runs: 72
Hits: 84
Home Runs: 24
---
New York Mets Team News:
Jacob DeGrom felt good while throwing off a mound last week, as per reports. But he remains days away from being considered for the first-team action.
Carlos Carrasco (hamstring) has been making a good recovery while on a rehab assignment. He allowed two hits and no walks and struck out six in three scoreless innings, as per reports.
Jeff McNeil is considered as day-to-day due to an undisclosed injury issue. He will be put through his paces before the game.
Taijuan Walker is also listed as questionable for this game and will have to prove his match fitness ahead of the match in order to have a stake in the first team.
David Peterson will have to undergo surgery to repair a broken toe, as per reports. He has been transferred to the 60-day injury list as a result.
Stephen Nogosek is listed on the 10-day injury list due to an unspecified issue.
Robert Stock's injury was worse than previously thought with the player now on the 60-day injury list.
---
Atlanta Braves Team News:
Drew Smyly has a test coming out positive showing no structural damage to his left knee. In fact, he may be part of the rotation on Thursday. But he will be held out of this game for precautionary reasons.
Ian Anderson played catch last week as he continues to do rehab assignments following a shoulder injury.
Huascar Ynoa slogged 30 pitches in a live batting session last week. He is likely to begin a rehab assignment in the coming days.
Travis d'Arnaud joined his Braves team on the current road trip, as per reports.
Ronald Acuna Jr remains sidelined with a long-term injury issue.
---
New York Mets Possible lineups
Unlike Cricket or Football where 11 players take the field, in Baseball only 9 players are allowed to take the field.
New York Mets Lineup (likely):
Brandon Nimmo (L) CF
Pete Alonso (R) 1B
Jeff McNeil (L) 2B
J.D. Davis (R) 3B
James McCann (R) C
Michael Conforto (L) RF
Jonathan Villar (S) SS
Kevin Pillar (R) LF
Tylor Megill (R) P
Atlanta Braves Possible Line-Ups
Atlanta Braves Line Up (likely):
Joc Pederson (L) RF
Ozzie Albies (S) 2B
Freddie Freeman (L) 1B
Austin Riley (R) 3B
Dansby Swanson (R) SS
Abraham Almonte (S) LF
Guillermo Heredia (R) CF
Kevan Smith (R) C
Max Fried (L) P

---
NYM vs AB Dream11 Team Prediction
OF: J Pederson, B Nimmo, K Pillar
IF: A Riley (VC), O Albies, F Freeman (C), P Alonso
P: T Megill
C: J McCann