BOS vs PHI Dream11 Prediction NBA Live Fantasy Basketball Dream11 Team, Top Picks and Tips for Boston Celtics vs Philadelphia 76ers
Updated on: Oct 18, 2022 12:32 am IST
BOS vs PHI Dream11: The NBA is going to start with a bang and we have finally been blessed with the start of the Regular Season. The Golden State Warriors will begin the season as the current champions. The Boston Celtics were the Finalists last year and took the basketball world by storm. The Boston Celtics will begin their season with a game against the Philadelphia 76ers.
The Celtics are at their peak and after making it to the championship round last season, you have to rate them highly in the fresh season. Boston returns with pretty much the same unit with the addition of Malcolm Brogdon, whose fit can be a bit questionable.
The Philadelphia 76ers reached the Conference Semis last season and they lost in six games. The 76ers will also fancy their chances as they have a solid core too and with the addition of PJ Tucker they will have a physical presence as well.
Home: Boston Celtics
Visitors: Philadelphia 76ers
Match Timing: 19 October, @ 05:00 AM (+05:30 UTC)
Venue: TD Garden
NBA Projections, Stats & Analysis
Celtics: How will they survive?
What jumps about the Celtics is their immense defense. Last season, this team had no problem limiting opponents under 100 and it was a nightmare to play against them. A defense that is built upon trust and with amazing size and quick feet. When you have Jayson Tatum, Jaylen Brown, Marcus Smart on the perimeter, how will the opponents break the perimeter? They can guard pretty much all positions and thus you can't create mismatches as such. Al Horford in the middle remains a superb defender and he is ready to switch and take care of the perimeter too. The defensive theme continues with Derrick White off the bench who can take on any assignment.
The offense can be a bit iso-heavy at times with Jayson Tatum dominating the ball but the team is blessed with two 20+ points scorers in Tatum and Brown. Smart may not be as consistent but can push the pace, pass the ball well and also come up with key buckets. White is inconsistent too but knows how to shoot and pass the ball at a high clip whereas Horford knows his role well and can knock down the long jumper as a stretch-five. Malcolm Brogdon is a brilliant all-around talent but he will need to develop some off-the-ball strategies and take a backseat at times as well. Will he fit well?
Philly: Tantalising prospects
With Joel Embiid as the five, Sixers already are blessed with a Center who knows how to finish inside, clasp big-time rebounds, and also play elite defense, which makes for a winning recipe straightaway. And when you put a playmaker of James Harden's caliber beside him, wow, what a duo it becomes! Add Harden's crafty stepbacks and the tendency to get to the line, and you get a top-ten offense already. Then to make things worse for defenses, there is Tyrese Maxey who plays in such a manner that you can't cheat off him and put extra defenders on Harden and Embiid regularly, cause this guy will burn you from anywhere.
Tobias Harris is such a solid stretch-four who can take the best defenses to the task. PJ Tucker is a great addition, someone who can take defensive pressure off Embiid and can guard the perimeter too. The bench saw an upgrade with the arrival of De'Anthony Melton and alongside Matisse Thybulle, he can form a defensive duo off the bench while he can also pitch in with some decent shooting. Will Shake Milton enjoy a big role here?
Boston Celtics vs Philadelphia 76ers NBA Live, Team News and Lineups
Boston Celtics Team News:
Robert Williams is going to be sidelined for around 2-3 months.
Danilo Gallinari is OUT.
Celtics Expected Starting Five
Stretch-Five: C: Al Horford
Wing: SF: Jayson Tatum
Off-Guards: SG: Derrick White | SG: Jaylen Brown
Main Ball-Handler: PG: Marcus Smart(Game-Time Decision)
BENCH: Malcolm Brogdon, Blake Griffin, Luke Kornet, Luka Samanic, Noah Vonleh, Derrick White, Payton Pritchard, JD Davison, Sam Hauser, Mfiundo Kabengele.

Philadelphia 76ers Team News
No injury report at the time of writing
Sixers Expected Starting Five
Forwards: PF: PJ Tucker | SF/PF: Tobias Harris
Middle: C: Joel Embiid
Guards: PG: Tyrese Maxey | PG: James Harden
BENCH: Georges Niang, Danuel House Jr., Paul Reed, De'Anthony Melton, Matisse Thybulle, Jaden Springer, Julian Champagnie, Montrezl Harrell, Furkan Korkmaz, Shake Milton, Michael Foster Jr.
NBA Scores, Fantasy Basketball Top Picks
Jayson Tatum(BOS)
Wing Tatum is known for diverse offensive skillset and he is the main point of convergence when it comes to scoring. He can also provide stellar defense and pluck up boards. He does tend to take tough shots at times. I believe he will be in 25-31 points, 6-9 rebounds, and 5-8 assists range. He can be chosen as a Star/Pro Player in the Dream 11 NBA Fantasy scenario.

Joel Embiid(PHI)
Joel is one of the best Centers in the league and his ability to read the game on both ends is not common for someone his size. Health has been issue for him. I believe he will be in 25-32 points, 10+ rebounds, 3-6 assists, and 1-3 blocks/steals range.

Jaylen Brown(BOS)
Brown is a top-notch defender and can also waive his magic wand on the offensive end, being one of the best two-way players in the league. I expect him to be in 22-28 points, 7-11 rebounds, and 4-7 assists range.

James Harden(PHI)
Last season, Harden's shot was way too off at times and he struggled for rhythm but things can change as he would have gotten accustomed to the 76ers' schemes. I expect the amazing playmaker to be in 18-25 points, 8-11 assists, and 1-3 steals range.
Marcus Smart(BOS)
Smart is QUESTIONABLE for the game and if he plays, you are bound to see him go after balls like his life depends upon it. The reigning Defensive Player of the Year can be in 10-16 points and 5-8 assists range if he plays.

Tyrse Maxey(PHI)
Maxey's explosive first-step accompanied with his ability to contort his body makes him a perfect offensive option in the current Sixers team. This can be an All-Star year for this amazing baller. I expect him to be in 19-26 points and 4-7 assists range here.

BOS vs PHI Dream11 Lineup Balancers
Al Horford(BOS): Center Horford knows how to find open shooting spaces but his main trades are playing top-quality defense and grabbing boards. I expect a 10-16 points and 7-11 rebounds range here.
Malcolm Brogdon(BOS): How will Brogdon fit in the Celtics scheme? He is a brilliant scorer, playmaker, and rebounder, but will he not need the ball more than he will get here? Or perhaps he can act as a big-time injury cover. I don't know what to expect here.
Tobias Harris(PHI): Tobias is one of the most underrated Forwards. He plays tough defense, can shoot from outside and also showcases great awareness during tough game situations. I expect a 12-17 points and 6-9 rebounds range.
Derrick White(BOS): White does play solid defense but his offense was on-and-off last season. I expect a 8-13 poitns and 3-5 assists range here.
De'Anthony Melton(PHI): Melton earned his chops during his days in Memphis. aHowever, he continues to post tough shooting nights. I expect a 7-11 points range here.
Grant Williams(BOS): Grant has proven he belongs to the NBA and he can end up earning a sub-30 minutes role eventually. This is a big season for this dude. I expect a 7-11 points and 4-6 rebounds range here.
Montrezl Harrell(BOS): Harrell has played for many teams lately and let us see how this power-player who hangs his hat inside the paint performs. His undersized frame has held him back on the defensive end though. I expect a 5-9 points and 5-8 rebounds range here.
BOS vs PHI Dream11 Lineup
PG: M Brogdon
SG: T Maxey
SF: J Brown(PP)
PF: G Williams, J Tatum(SP)
C:   A Horford, Harrell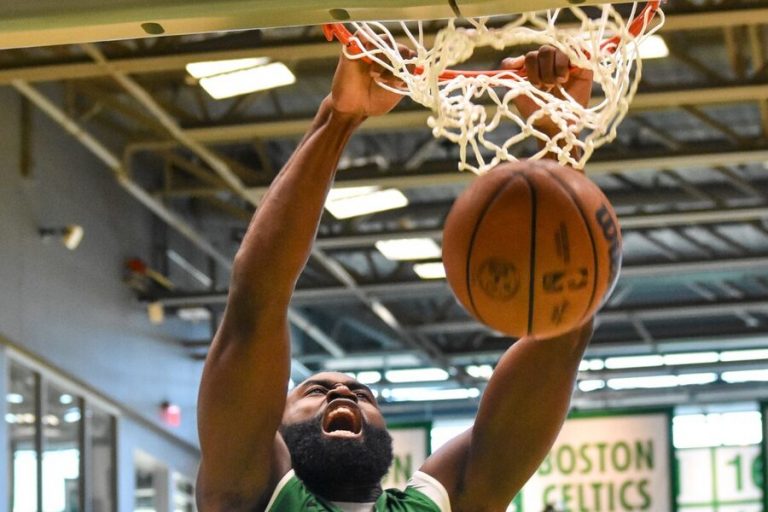 Where to watch NBA Live Score?
First game of the season and that also between two contenders! Surely, don't wanna miss this? This match can be found LIVE on the NBA League Pass. The action will also be available on online streaming platform "Voot". You can follow the scores, news, and advanced stats through the NBA's official website. To view the highlights, you can go to the official YouTube channel of the NBA.
Follow us on Google News!