HOU vs GSW Dream11 Prediction NBA Live Fantasy Basketball Dream11 Team, Top Picks and Tips for Houston Rockets vs Golden State Warriors
Updated on: Jan 31, 2022 9:38 pm IST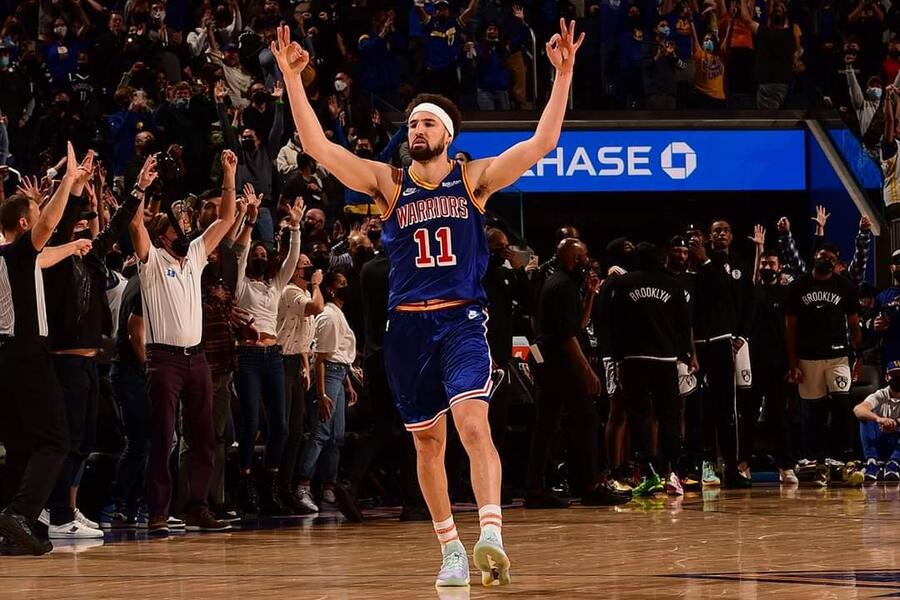 HOU vs GSW Dream11: NBA midseason is here and well, what a fun season we have had! The league has combatted well against the COVID-19 Omicron threat and now as we head towards the All-Star window, this season's All Star Game can be better than the last one(Although for me All Star games are meaningless largely, it is the tag that matters). But before that, we will have a trade deadline window and well, don't be surprised if some of the big names see a change of scenery.
Anyway, let us get right into this game between the Golden State Warriors and the Houston Rockets in a typical Western Conference affair. The Warriors are having a title-contender type of season after last season they were at the fringes of the Playoffs race. Well, the change has come from almost the same core but largely due to the growth of Poole and an improved play off the bench. Can the Warriors win sixth in a row here to mark their ascendancy?
On the other hand, the Houston Rockets have been going through a turbulent period once again and they haven't been the same since the departure of James Harden. The team is in full-blown rebuild mode and well, their current record was projected by various critics, fans, and writers beforehand. Will the Rockets trade some of their key issues?

Host: Houston Rockets
Visitors: Golden State Warriors
Match Timing: 1 February, @ 08:30 AM
Venue: Toyota Center
NBA Projections, Stats & Analysis
Warriors: Surging
The Golden State Warriors hit a phase earlier this month when they lost around 60-70% of the games and were hitting cold spell. Why did it occur? Well, first Draymond Green went down and then Klay Thompson got back in the lineup which caused Jordan Poole to lose his rhythm. What did coach Steve Kerr do? Make adjustments, give Poole more minutes and the liberty to shoot at a huge clip. And the Warriors have been playing at a high clip and despite missing Green, they have figured out a way to eke out quality offense and defense.
Steph Curry has struggled to shoot from the field but at this point, you can't just see Curry as a mere offensive player, he fights hard on defense, can act as the playmaker, and can be an all-around presence. Thompson is shooting well while as stated earlier, Poole is back to his old offensive ways, what a trio of guards! Andrew Wiggins continues to be a two-way threat at the wing and along with Otto Porter Jr.(OUT here) forms a formidable wing pairing. On the other hand, Kevon Looney has scrapped rebounds and played quality help defense to make up for the loss of Green. Gary Payton II, Damion Lee, Jonathan Kuminga, and Juan Toscano-Anderson can round off the lineup.
Rockets: What route will they take
The Rockets' future is uncertain when it comes to Christian Wood and Eric Gordon. Wood has been a big-time scorer and rebounder and he has been leading the team in scoring and rebounding. Gordon has been a veteran presence at the off-guard position. However, I have doubt either of those players will be with the team after the trade deadline. If not both then one of them would be traded in my opinion. Other than these two, Jae'Sean Tate can be traded too as the two-way wing who can help out many contending squads. Will all three of them be traded soon?
Now let us assume, all of them are traded. The team has Kevin Porter Jr. at the one-guard position, Jalen Green at the two-guard, Kenyon Martin Jr. can slate in as the wing or big Forward. Meanwhile, Josh Christopher can be set in the three-guard lineup of Kevin, Jalen, and Christopher, with Martin at big Forward and Alperen Sengun in the middle. This is a young lineup but I think if the Rockets trade away the rest of the veterans and high-value players, they can land high-quality draft picks and also some other young players who can bring future value. What will the Rockets do?
Golden State Warriors | Houston Rockets
Games: 50| 49
Wins: 37| 14
Defeats: 13| 35
Houston Rockets vs Golden State Warriors NBA Live, Team News and Lineups
Houston Rockets Team News
Kevin Porter Jr. is QUESTIONABLE for the game
Usman Garuba is OUT For the game and will be gone for a couple of months
John Wall is OUT and he may be return soon.
Rockets Expected Starting Five
Wing: SF: Jae'Sean Tate
Middle: C: Christian Wood
Guards: SG: Eric Gordon | SG: Jalen Green | PG: Kevin Porter Jr.(QUESTIONABLE)
BENCH: Kenyon Martin Jr., David Nwaba, Garrison Mathews, D.J. Augustin, Josh Christopher, Daniel Theis, Armoni Brooks, DeJon Jerraeu, Daishen Nix.
Golden State Warriors Team News

James Wiseman is OUT for this contest and there is no timetable to return
Draymond Green is OUT and will be revaluated soon.
Andre Iguodala is OUT for the game due to a hip issue.
Otto Porter Jr. is OUT for the game
Nemanja Bjelica is QUESTIONABLE for the game.
Warriors Expected Starting Five
Wings: SF: Andrew Wiggins
Middle: PF: Jonathan Kuminga | C: Kevon Looney
Guards: PG: Jordan Poole | PG: Stephen Curry
BENCH: Nemanja Bjelica, Damion Lee, Jonathan Kuminga, Juan Toscano-Anderson, Gary Payton II, Chris Chiozza.
NBA Scores, Fantasy Basketball Top Picks
Christian Wood(HOU)
Points: 21
Rebounds: 15
Assists: 03
Blocks: 02
Christian leads the Rockets in points and rebounds and has been the most consistent offensive option. A 17-23 points and 10-15 rebounds range has been the norm for the Center. Christian can be selected as a Star/Pro Player in the Dream 11 NBA Fantasy scenario.
Expected Fantasy Points Range: 36-48

Stephen Curry(GSW)
Points: 19
Rebounds: 07
Assists: 08
Steals: 03
Curry has been struggling to shoot from the field but who cares, he will still attract multiple defenders regardless. I expect a 25-30 points, 5-8 rebounds, and 5-8 assists range here from the Guard.
Expected Fantasy Points Range: 38-53

Jalen Green(HOU)
Points: 17
Rebounds: 05
Assists: 05
Steals: 01
Rookie Jalen has been going through one of the typical tough shooting phases. He has been 10-15 points range mostly but here I see him being more in the 8-13 range.
Expected Fantasy Points Range: 27-37

Andrew Wiggins(GSW)
Points: 24
Rebounds: 08
Assists: 02
Steals: 03
Blocks: 01
The wing position has been solidified by Wiggins for the Warriors as he continues to score and defend well. The two-way wing has been in the 17-24 points and has grabbed 5-8 rebounds a game regularly.
Expected Fantasy Points Range: 35-45

Jae'Sean Tate(HOU)
Points: 12
Rebounds: 04
Assists: 05
Steals: 01
Tate has been a stable two-way option for the Rockets all season long and for two seasons, he has been widely available to play. The wing has been lodging 10-15 points and 4-6 rebounds a game consistently.
Expected Fantasy Points Range: 23-33

Kevon Looney(GSW)
Points: 06
Rebounds: 15
Assists: 02
Looney has picked up his rebounding game ever since Green has been absent. Kevon has been in the 6-9 points range while he has grabbed 9 or more rebounds in three out of the last five games.
Expected Fantasy Points Range: 26-34
HOU vs GSW DREAM11 LINEUP BALANCERS
Eric Gordon(HOU)

had

7 points, 3 rebounds, 3 assists,

1 steal

in the last game. Veteran guard Gordon has usually been in the 10-16 points range this season.

Jordan Poole(GSW) had 17 rebounds, 6 assists, 3 rebounds,

1 block

i

n

the last game. Poole has figured out how to get high-time production off the bench. I expect a 16-19 points range
Klay Thompson(GSW)

had

16 points, 6 rebounds, 2 assists,

1 steal, 1 block

in the last game. Thompson has found his groove a 15-21 points range should be expected here.

Garrison Mathews(HOU)

had

21 points, 3 assists, 1 rebound,

2 steals

in the last game. Garrison has scored 21 or more in three of the last five games. If Kevin Porter Jr. plays here, I expect a 10-15 points range.

Gary Payton II(GSW) had 4 points, 2 rebounds, 1 assist,

1 steal

in the last game. Well, Gary's role has reduced ever since Klay has been back. He is in the 4-6 points and 2-6 rebounds range these days.
Jonathan Kuminga(GSW)

had

2 points, 4 rebounds, 1 assist i

n the last contest. Jonathan can get decent minutes with Otto out. I expect a 10-15 points range here.

Juan Toscano-Anderson(GSW) had 6 points, 1 rebound i

n

the last contest. Juan can get decent minutes with Otto out. I expect a 4-7 points range nonetheless.
Kenyon Martin Jr.(HOU) had 17 points, 3 assists, 2 rebounds in the last game. The Forward has been in the 13-17 points range recently, in one of his best stretches all season long.
Josh Christopher(HOU) had 11 points, 3 assists, 2 rebounds in the last game. Josh has been in the 6-13 points range lately.
Armoni Brooks, Alperen Sengun, DJ Auguston(HOU) are not playing many minutes, scoring 2-5 points a game when given 10 minutes or so.
HOU vs GSW Dream11 Team
PG: S Curry(SP), J Green
SG: K Thompson, J Poole
SF: A Wiggins
PF: J Kuminga, K Martin
C:   C Wood(PP)

If you like our Dream11 Prediction Tips, please share this article with your friends, who are also interested in playing Dream11 Fantasy Leagues. Don't forget to follow us on Twitter, Telegram, and YouTube for the best Dream11 Fantasy Tips.
Where to watch NBA Live Score?
This game is not available on Television channels MTV and VH1 and on the other hand, the streaming platforms such as Voot and JIO TV will also not stream this game for the Indian viewers. I will hum the same tune that if you are a big-time NBA fan, who loves to catch all the teams in the acquire the Annual Subscription of the NBA League Pass, because of which, you can get access to all live streams and get the full game replays from the earlier seasons too. To get the score, stats, and news on the official website of the NBA.