Rahul Dravid says "pay us equal"; Twitter lauds
Updated on: Feb 28, 2018 3:36 pm IST

'The Wall' of Indian Cricket Team, former Indian Skipper and Indian Coach, Rahul Dravid believes that hogging headlines is not his thing. Yet, he has always ruled the hearts of millions of his fans who admired him not only for his commitment towards the on-field game but also for the off-field aura he carries with him.
People credited him for mentoring the team exceptionally well and were all praises for the team and the coach. BCCI announced a reward of Rs. 50 lakh for the coach, Rs. 20 lakh for the support staff and Rs. 30 Lakhs for the players.
However, Jammy was unhappy with the disparity and demanded BCCI to pay the staff members equally. BCCI accepted the proposal and now all the members of the U-19 coaching staff would be getting Rs. 25 Lakh, including Dravid.
Dravid's selfless move prompted the Twitterati to place Rahul Dravid in competition with Narendra Modi:
Can we please just elect Dravid to the post of PM?

I know it sounds silly, but this is the kind of person India needs. Someone who cares for others. Everything else can be learnt, but decency & kindness come from within.
https://t.co/UjshjFTJFR

— VISHAL DADLANI (@VishalDadlani) February 25, 2018
I will vote for any party that promises to make Rahul Dravid our PM. #DravidforPM

— Bhavik (@BhaWicked) February 25, 2018
No matter how random, but the only person I wish to be this country's PM is Rahul Dravid.

— Chirag Jain (@cheeragdilli) February 25, 2018
Rahul Dravid questioned BCCI's pay disparity between him and his support staff: Reports

MAKE HIM PM!

— Clinton Senapati (@94Clinty) February 7, 2018
Rahul Dravid for PM in 2024 #whataMAN

— Dwarika Uniyal "देव" (@Dwari1008) February 6, 2018
Rahul Dravid's sense of fair play and willingness to take a cut in his own earnings to ensure that support staff get more is a rare story #respect pic.twitter.com/6PPPkL36Hb

— Rupashree Nanda (@rupashreenanda) February 25, 2018
#RahulDravid for pm

— M faizy (@Mfaizy5) February 27, 2018
No Dream is ever chased alone:           
After mentoring team India to clinch the coveted World Cup, Dravid acknowledged the role of support staff and said, "It's quite embarrassing at times because I feel I get a lot of attention and focus, but it is really about the support staff and the quality of people that we've had."
"I don't want to mention names but everyone in the support staff has put in a great effort. We do the best for the kids," he added.
Rahul Dravid receives 4 crores annually for a 3-year contract with the Indian junior and A teams.
The wolf who lives for his pack:
Dravid has played 286 test innings and he holds a record of never getting out for a Golden duck in any of the innings he has ever played. He has firmly stood by the side of his team in his career.
He faced 31258 balls, which is the highest number of balls faced by any player in test cricket. He also spent 44152 minutes at the crease, which is the highest time spent on the crease by any player in test cricket.
https://twitter.com/fwildecricket/status/524895540191182848
That's Rahul Dravid in a queue with his kids at a science exibhition.
No show off;
no page 3 attitude;
no celebrity airs;
no "do you know who I am?" looks;
Queueing just like any other normal parent… really admirable… pic.twitter.com/NFYMuDqubE

— South Canara (@southcanara_) November 23, 2017
The great man Rahul Dravid showing us the sights… #BestTourGuide#Tuktuk #onlywaytotravel pic.twitter.com/7iFL9TVbaX

— Shane Watson (@ShaneRWatson33) May 22, 2014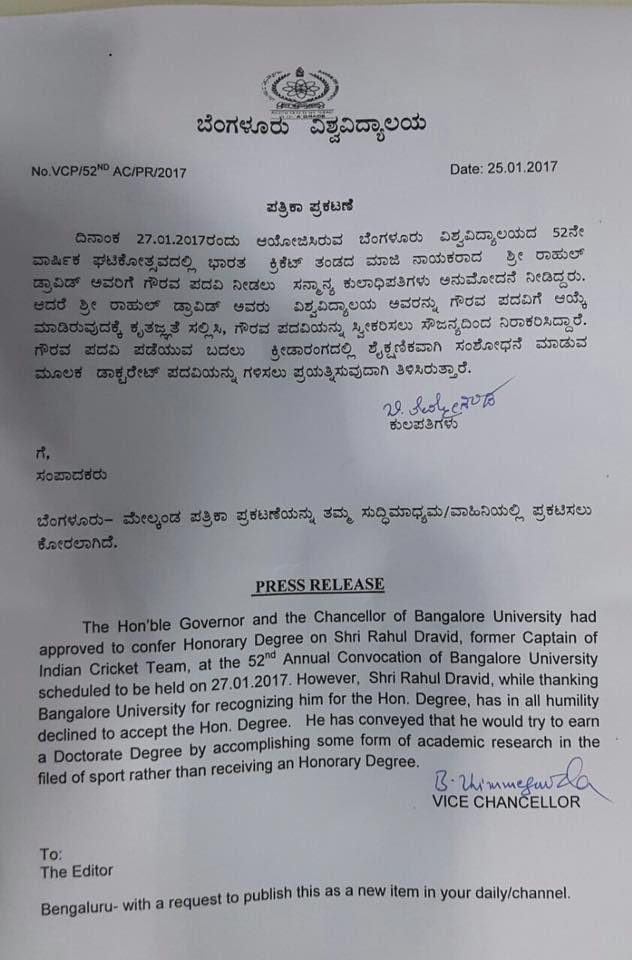 Bae: Come over.
Dravid: Can't, I am batting.
Bae: No one's home.
Dravid: STFU I AM BATTING pic.twitter.com/oZVv6kR8d4

— Trendulkar (@Trendulkar) January 10, 2016
For daily fantasy sports tips on your mobile phone, Fill out the form below