Revisiting Anil Kumble's 10/74
Updated on: Feb 7, 2018 3:32 pm IST

Penning down this feat is a must as history demands to be celebrated. 7 February 1999 – it was a day when India was playing to restore their pride and honour after losing in the first Test against Pakistan. Pakistan was set to chase a target of 420, Shahid Afridi and Saeed Anwar were firm on the pitch and had piled up 101 runs for the first wicket. And that's when India's Jumbo- Anil Kumble entered.
That Super Sunday went down straight into the archives of cricket when Kumble became the first Indian in the history of Test cricket to capture all the ten wickets in an innings at Feroz Shah Kotla.
In his first spell, Kumble could not find a breakthrough, but the floodgates opened immediately after Afridi's dismissal. Soon, Pakistan batting order crumbled like a house of cards and Pakistan's chances of drawing the match on the final day were shattered by Kumble, who took 10/74 to bowl India to their first win of this opposition in 19 years.
Perfect Ten was destiny: @anilkumble1074
Former #TeamIndia Captain and spin legend reminisces his 10-wicket haul against Pakistanhttps://t.co/GszgfYIoH8 #ThisDayThatYear pic.twitter.com/RNCgg65fp2

— BCCI (@BCCI) February 7, 2018
Years shall pass, but memories refuse to lose its colour:
Umpire AV Jayaprakash told in an interview, 'It feels like I am also a part of history that Anil Kumble created.' "I remember when Afridi's wicket fell, it was Sachin who had handed Anil's cap to me before the over began. After that in every over instead of Anil, it was Sachin who kept handing me his cap, and he kept doing it for all the ten wickets", he said.
#OnthisDay 1999 @sachin_rt how good was tht whn jersey no.10 watching tht jambo takes all the wkts in 1test innings 74/10 @anilkumble1074 👏 pic.twitter.com/2hoREcKk39

— SACHIN TENDULKAR FC ◆TEAM_SACHIN◆ (@Sachin_rt_200) February 7, 2017

Sachin and Kumble kept sharing continuing this tradition whenever they played at Kotla. When Kumble came out for the last time to bowl, the outgoing Indian captain remembered the ritual and told Sachin 'one last time' when Sachin walked to him to take his cap and give it to the umpire.
Anil Kumble credits destiny for the 'Perfect Ten'. "I will never forget how my team-mates rallied around me. Javagal Srinath was bowling at the other end when the ninth wicket fell. He bowled wide of the stumps. Obviously, he wasn't bowling to take a wicket,"- reminisces Kumble.
Kismat ke aage ,all saazish fail.
Well done Wasim bhai.
What a day it was at the Kotla by Anil bhai. pic.twitter.com/xDzMd39XOq

— Virender Sehwag (@virendersehwag) February 7, 2017
After this remarkable performance, Wisden rated it as the second best "bowling performance of all time", and it was also commemorated by naming a circle in Bengaluru after him.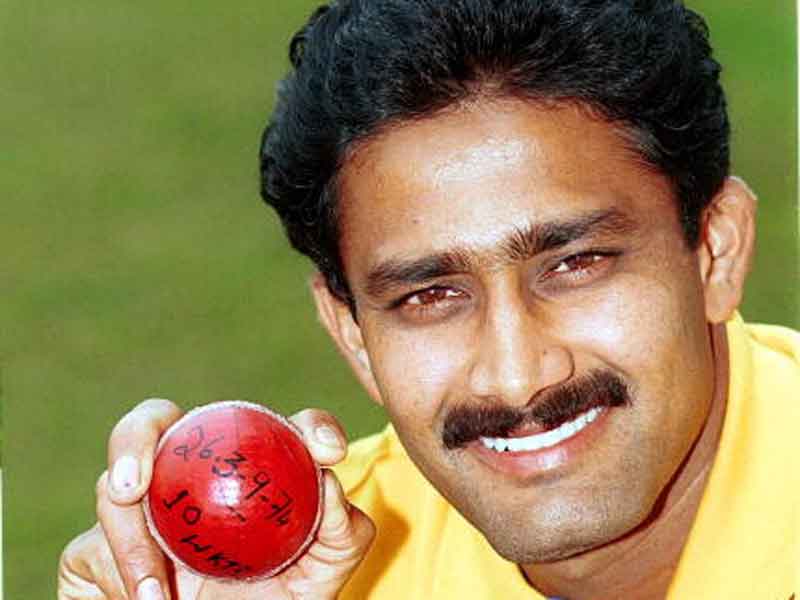 For daily fantasy sports tips on your mobile phone, Fill out the form below