Hardik Pandya Tattoo – All 8 tattoos of Indian cricketer and their meanings
Updated on: Dec 1, 2022 12:24 pm IST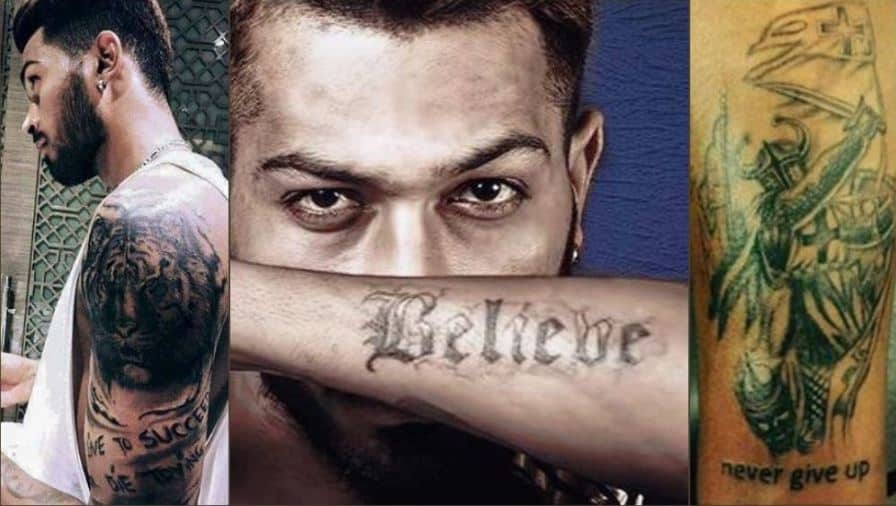 If you are a cricket fanatic and following the game closely, then you must be aware of some parts from the personal lives of your favourite cricketers. Modern-day sportspersons love to show their flamboyance not only on the field but also with their lifestyles.
Hardik Pandya tattoo meanings
Hardik Pandya is one of the most colourful cricketers going around in world cricket at the moment. His dressing sense and Instagram posts would be 'talk of the town' during most times than others. The other things that add to Hardik's charm are the tattoos on his physique. Tattoos often speak for the personality of a human without even saying a word. Also, a man inks something very close to his heart on the body. Let's dig deeper and find out more about Hardik Pandya's tattoos.
1. Believe Tattoo
Hardik Pandya has inked 'Believe' on his left arm. As it stands, this tattoo gives Hardik the belief that he can counter any situations not only on the field but also in life as well. He comes forward from a middle-class Gujarati family of Baroda, this tattoo depicts the struggle that he has gone through in his life.
2. Tiger Tattoo
This tattoo on his left arm is his favourite one as this one gives him the strength and courage to become numero uno just like a tiger.
3. 'Never Give Up' Tattoo
There is a tattoo of a fighter carrying a sword on the inner side of his right arm. It is also written 'never give up' just underneath the image. This one gives him the motivation for his 'never say die' attitude.
4. 'Live to Succeed or Die Trying' Tattoo
It is just like you are going through a motivational book when reading about his tattoos. This one on his left arm biceps indicates that you should never stop trying in your life and give everything that you have in the tank.
5. Paw Tattoo
Hardik Pandya loves his dogs and this tattoo is the tribute to them. He has got their paws inked on the right side of his neck. Two of them also carry the initials (A, B) of his 2 dogs- Aston Pandya and Bentley Pandya.

6. Peace Tattoo
Hardik has inked a symbol of 'peace' on the left side of his neck. This symbol can be found out from the various cultures across the globe. This indicates that all the volatility from his nature is gone and he is now at peace with life.
View this post on Instagram
7. Time Defining Clock
Hardik Pandya has got a clock inked on his left forearm. This clock indicates the time of his birth.
8. An Abstract Tattoo
Hardik is having an abstract tattoo on his right forearm, but the mystery of this tattoo has not been unlocked yet. Even cricketers are allowed to keep something private, aren't they?
Related Virat Kohli tattoo meanings