Virat Kohli's Biography – Career, Comparisons, Achievements and Controversies
Updated on: Jul 28, 2021 1:08 pm IST
Born on November 5 1988, in Delhi, a chubby lad with a flare of arrogance about his own self, Virat Kohli proudly stands today as the captain of Indian Cricket Team. Every time some critic raised a finger at him, he delivered and roared like a lion to shut him up. That armband, that MRF logo on his bat, that Lord Shiva tattoo, and that number 18 Indian Jersey have managed to portray an image of the Indian Captain the entire nation loves to watch. His wonders with the bat need no mention. He has done way more than enough to let the whole world know about it, breaking records at will, driving India to the finishing line single-handedly on many occasions, and yes, conquering every territory he has played in to deservingly earn the title of "King Kohli". But behind all that success, is the story of his struggle that remains unheard till date. His success has been engaging enough to make sure his fans don't even bother about what he has been through in his early days. Yes not as dramatic as MS Dhoni to earn him a biopic, but surely Kohli's struggle is a story good enough to be known by every single Indian and in fact every cricket fan across the globe. So here are a few things that we believe are a must to tell every Kohli fan what this man is made of.
Personal Details
Full Name: Virat Prem Kohli
Height: 175 cm (5'9″)
Weight: 69 kg
Father's Name: PremKohli
Mother's Name: Saroj Kohli
Nickname: Cheeku
Date of Birth: 28 November 1988
Place of Birth: Delhi
Residence: Raheja Legend, Worli, Mumbai
Spouse: Anushka Sharma (married 11 December 2017)
Siblings: BhavnaKohli (Elder Sister)
Vikas Kohli (Elder Brother)
Net Worth: $60 million/382 Crore INR (estimated)
Childhood
Being the youngest of three children, Virat Kohli was bound to be the most pampered kid in the Kohli family. Virat was his father's favourite child as is often recollected by both elder brother Vikas Kohli and elder sister BhavnaKohli. Virat's passion from cricket began right from his childhood when he held the bat for the first time aged just three. His father saw his son's passion right there and by the time Virat turned 9, got him into the West Delhi Cricket Academy where he got coached under Rajkumar Sharma. Virat began his schooling at the Vishal Bharti Public School but later moved to Saviour Convent to ease his cricket practice sessions. Not just at sports, Virat Kohli was good with academics as well. His teachers remember him as 'a bright and alert child'. Virat Kohli was closest to his father and shared a very loving bond with him. He lost his father in December 2006, when he was just 18 years old due to brain stroke. His chubby cheeks and notorious smile earned him the nickname "Cheeku".
Career
Everyone who watched Virat Kohli holds a bat knew he belonged to an elite class of his own. He kept excelling at the West Delhi Cricket Academy, before making it to Delhi-U15 team in 2002. Next up it was the Delhi-U17s, where Virat Kohli's stellar batting performances meant Delhi finished as the 2003-04 Vijay Merchant Trophy winners. Kohli finished with an impressive total of 757 runs from 7 matches at an average of 84.11, including two match-winning centuries. With Delhi now captured, it was time for "King Kohli" to show his batting prowess to the whole of India. Luck wasn't going to be that easy on him though, as he failed to get a chance to bat in his debut List A game for Delhi against Services. Luck finally smiled on him when he was selected for India's U-19 squad to tour England. Kohli knew it was his chance to reach the next level and he grabbed it gracefully with both hands. He averaged a massive 105 in the three-match series against England-U19 and carried that same form against Pakistan-U19.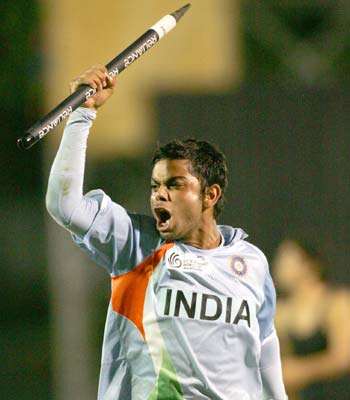 Those string of impressive performances meant Kohli was now India's flag-bearer in the 2008 ICC U-19 Cricket World Cup in Malaysia. He aptly led from the front and ensured India finished as Champions yet again. With the junior-level now completed, it was now time for Virat Kohli to step out on the top level. With just 7 List-A games behind him, Virat Kohli made his debut for the Indian National Team during the first ODI of India's Tour of Sri Lanka. In the absence of regular openers, Virender Sehwag and Sachin Tendulkar, Kohli was handed the responsibility of opening the batting for India. It all didn't start as planned as Kohli was out for just 12 runs on his debut. He did manage to play decent innings of 37,25, 54, and 31, but they were never going to be enough to earn him a place ahead of any of the Indian batsmen. It was in July 2009 when Kohli got the turning point of his career. He was selected in India's squad for a four-nation emerging players tournament, where he led India to the title with his impressive tally of 398 runs from seven matches. Kohli returned to the national squad to fill in for injured Gautam Gambhir during the 2009 ICC Champions Trophy. He won his first Man of the Match award for a dominant 79-run innings against a solid looking West Indies attack in the group stages. His appearances in the blue jersey became more frequent now and it was in the fourth ODI between India and Sri Lanka during Sri Lanka's tour to India in December 2009 when Virat Kohli scored the first century of his career. Gautam Gambhir scored 150 in the same game to be awarded the MOM but Gambhir too was so impressed with Virat that he handed over the MOM award to Kohli.

After cementing his place in the side, it was now time for Virat Kohli to step up through the ranks. He was named India's vice-captain for the tri-series involving Sri Lanka and Zimbabwe in Zimbabwe but failed to help India from the blushes as they ended up losing three of their four matches. With Suresh Raina's form only going down the graph, it took Kohli no time in becoming Dhoni's deputy. By the time 2011 World Cup arrived, Virat Kohli was standing as a pillar of the Indian batting line up that had the likes of Yuvraj Singh, Sachin Tendulkar, and Virender Sehwag in it. He became the first Indian to score a century on his World Cup debut as he managed to get an unbeaten 100 in India's opening group game against Bangladesh. He kept breaking records at will, becoming the fastest to 1000,2000, and 5000 runs for India. Kohli made his test debut against West Indies later in 2011 but failed horribly through the entire series. He had to work hard to get back into the whites after that, as he earned a comeback against West Indies itself. After all the ups and downs, later on, it was in 2014 during India's tour of Australia, Virat Kohli led the Indian Test Team for the first time as regular captain MS Dhoni was out due to an injury. Later during the tour of England, captain cool, MS Dhoni, felt that Kohli was now mature enough to step up and replace him as he handed over the test captaincy to Virat Kohli permanently. Two years later, Virat Kohli took over the ODI and T20 captaincy as well, in the presence of MS Dhoni. Despite speculations of a rift between Kohli and Dhoni, Kohli kept learning the art of captaincy from arguably India's best captain ever. He now stands as the No. 1 batsman in ODIs as well as Tests having taken India to the top spot in both formats while doing so.
Comparisons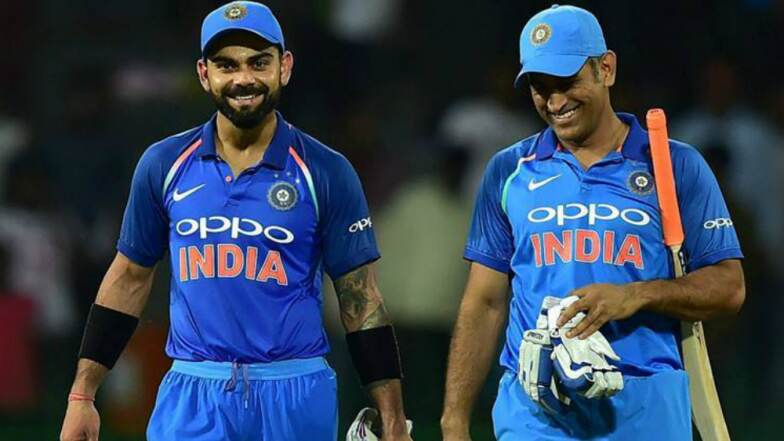 Virat Kohli has been at the centre of two majorly controversial comparisons. First due to his batting marvels with arguably the greatest batsman to have ever graced the game, Sachin Tendulkar. Second, with one of India's favourite captain and Kohli's predecessor, Mahendra Singh Dhoni. Both the comparisons haven't been much to Kohli's liking but the facts and numbers have made it difficult not to compare. Now as to the first comparison is concerned, as per HarshaBhogle's analysis, Virat Kohli will come close to Tendulkar's record but is not likely to break all of them. His captaincy record too have been in good stead but for getting those numbers to look better than Dhoni's, he still needs to win a World Cup, T20 World Cup, and a Champions Trophy as well. Early days for captain Kohli, but he has shown enough grit already to make that comparison look valid.

Criticisms
Cricket has been a gentlemen's game since ages. Aggression doesn't go down very well on the cricketing field. Virat Kohli has been severely criticised for his not-so-gentleman style by many cricket pundits. His aggression on the field has been certainly beyond the acceptable limits at times, but he has managed to get that under control of late. Virat Kohli has drawn criticism for his rotational policy from all corners of the cricketing community. Kohli is yet to captain the same Playing11 for two consecutive matches ever since taking over India's test captaincy. That has hampered the confidence of many players and has left a very remark on Kohli's captaincy. When and how he gets that sorted remains to be seen.
Brands & Teams Owned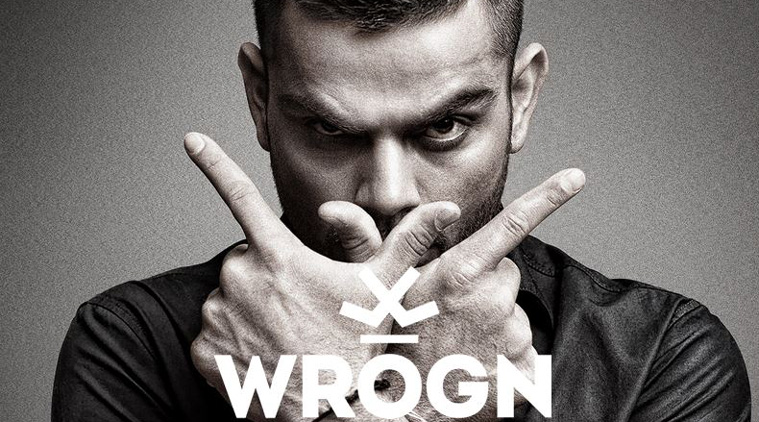 Football being Kohli's second favourite sport, he became the co-owner of Indian Super League side FC Goa.
In 2015, he became the co-owner of UAE Royals, a franchise in International Premier Tennis League.
He co-owns the Bengaluru Yodhas in the Pro Wrestling League.
He, along with Anjana Reddy's Universal Sportsbiz, launched a youth fashion brand, Wrogn, in 2014.
Kohli has shares in a fitness chain named Chisel, in association with Chisel India and CSE (Cornerstone Sports and Entertainment), the company that lands Kohli all the endorsement deals.
He launched a children fitness venture, Stepathlon Kids, in association with Stepathlon Lifestyle.
He endorses a large number of brands including a deal with MRF and Puma. The other big brands associated with Kohli include Audi, Gillette, American Tourister, Flying Machine, and many more.
Cars Owned
Audi Q7
Audi S6
Toyota Fortuner 4×4
Audi R8 V10 Plus
Lamborghini Gallardo
Range Rover
BMW X6
Properties Owned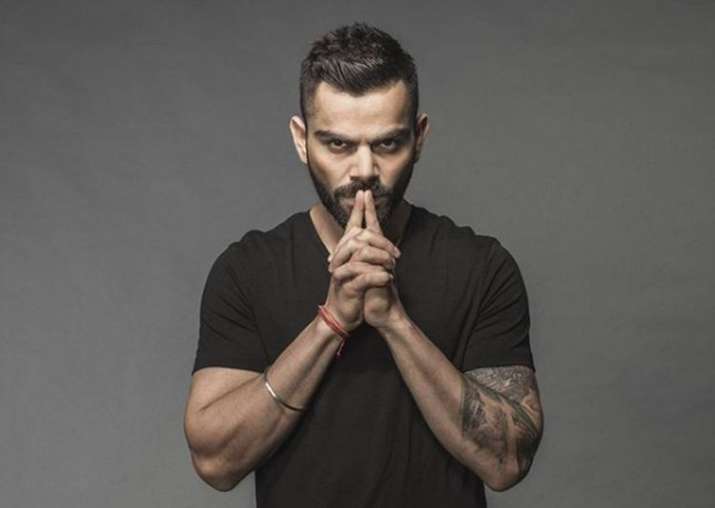 PaschimVihar, Delhi (Family Home)
500 Yard Bungalow in West Delhi's Punjabi Bagh Area
Virat Kohli had bought a flat in Omkar 1973 in Worli, Mumbai, but the deal now stands cancelled as reported.
Virat Kohli and Anushka Sharma are now planning to buy a penthouse.
Charities
In March 2013, Virat Kohli founded the Virat Kohli Foundation (VKF) that aims at serving the underprivileged children. He actively participates in the charity events for the foundation and looks after its working whenever he gets time. His foundation joined hands with eBay and Smile Foundation to host charitable matches, dinners, and other events to raise funds for the charitable works of the foundation.
Virat Kohli is a man beyond words. Cricket, the gentleman's game, has witnessed many aggressive and rogued players, but none has managed to stay in the game the way Virat Kohli does. For all the good work that he does on and off the field, we at India Fantasy, thank Virat Kohli, and wish he brings more and more smiles to the entire nation.
Never miss an update, visit Google News & FOLLOW US.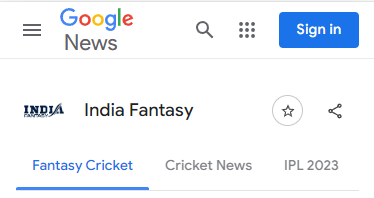 For daily fantasy sports tips on your mobile phone, Fill out the form below