Indian Cricketers who Married more than once
Updated on: Jan 13, 2022 1:18 pm IST
The stardom enjoyed by the top brass cricketers in India is sometimes envied even by movie stars. The cricketers enjoy the enthusiasm of their patronage. With a lot of Bollywood celebrities going gaga over the dashing heroes of the field, the personal life of these players is far from ordinary. Let's look at Indian Cricketers who Married more than once

1. Mohhamad Azharuddin
Mohammed Azharuddin, the former Indian captain from Hyderabad is remembered for the infamous fixing scandal. The tall and lanky right arm middle-order batsman was an elegant player. He debuted in 1984 and since then capped for 99 tests and 334 One Day Internationals. The cricketer was considered to have the best wrists in the game. Apart from his fluidic style of batting which was attacking in nature, he had a very good pair of hands, thus a very successful slip fielder.
It was in the year 1987, he married 16-year Naureen in Hyderabad. The couple was blessed with 2 sons named Mohammad Asaduddin and Mohammad Ayazuddin. Their marriage lasted for 9 years after which Azharuddin filed for divorce. The cricketer was already dating the actress and model Sangeeta Bijlani at that time. The two immediately tied the knot. However, their marriage was not everlasting, the 2 got divorced after 14 years in 2010. According to sources, Azharuddin was having an alleged affair with badminton player Jwalla Gutta which lead to the separation.
Mohammed Azharuddin first wife Naureen
Mohammed Azharuddin second wife Sangeeta Bijlani (Bollywood Actress)
Mohammed Azharuddin third wife (alleged): Shannon Marie
---
2. Vinod Kambli
The dashing cricketer from Mumbai is remembered for his flamboyant style of batting. The classic batsman used to bat in the middle order. He was one of the best friends of Sachin Tendulkar. The two were trained under the same coach, i.e. Ramakant Achrekar. Sachin and Vinod had close friendship since childhood. The most impressive childhood knock of Kambli and Sachin is still remembered by cricket fans. The two had put up a partnership of 664 runs. Vinod Kambli scored 339 runs in the particular innings. Vinod Kambli holds 2 impressive unbeaten records by any Indian of having the highest career batting average of 54 in Test matches. Kambli is still the fastest to reach 1000 runs in Test matches by any Indian in a record 14 innings. However, his career as an international cricketer was very short lived despite the early success in his career. He is also the first cricketer to have a century scored on his birthday.
In his personal life, Kambli tied the knot in 1998 with Neolla Lewis. She was a hotel receptionist in Hotel Blue Diamond, Pune. Post separation from his first wife, he married Andrea Hewitt and the couple was blessed with a boy in 2010.
Vinod Kambli first wife Neolla Lewis
Vinod Kambli second wife Andrea Hewitt
---
3. Javagal Srinath
The fast bowler from the land of Karnataka is remembered as one of the finest fast bowlers of Team India. Often referred to as the 'Mysore Express', the pacer had a tall and lanky frame. Srinath was a terror for the opposition as he used to generate an exhilarating amount of pace with the ability to swing the ball both ways. Srinath is currently an ICC match referee and holds the record to be the first Indian fast bowler to scale more than 300 dismissals in One Day Internationals.
Javagal Srinath married Jyothsna in 1999, however with time the two got separated in 2007. They had mutually decided for the separation. The fast bowler married for the second time in 2008 to Madhavi Patravali. Srinath's second wife is a journalist by profession and works as a copy editor in an English daily.

Javagal Srinath first wife Jyothsna 
Javagal Srinath second wife Madhavi Patravali
---
4. Yograj Singh
Yograj Singh is a former Indian cricketer who belonged to a Sikh peasant family. His career as an international cricketer was very short-lived. He played only 1 test and 6 One Day Internationals for the country at international level. His career came to a halt after he faced an injury and was ruled out of the team for fitness issues. He often blames Kapil Dev for ruining his international career and not supporting him in his difficult times. The latter, however, has never commented about this issue in public. It is believed that Kapil Dev and Yograj Singh and there have been cheap publicity in this regards. He could not make a comeback citing low fitness and poor form of the cricketer.
The cricketer trained his son Yuvraj, who went on to become one of the finest players in Indian cricket. Yograj Singh married Shabnam who belonged to a Muslim business family. The marriage did not last due to sharp differences in their life choices and they separated soon.
Yograj had a second marriage with Satveer Kaur and has 2 kids. Soon after Yograj was out from the cricketing fraternity he shifted his career to films. He has featured in several Punjabi films and is a popular name in the regional film fraternity. He is also remembered for his role of Farhan Akhtar's coach in the movie 'Bhaag Milkha Bhaag'.
Yograj Singh first wife Shabnam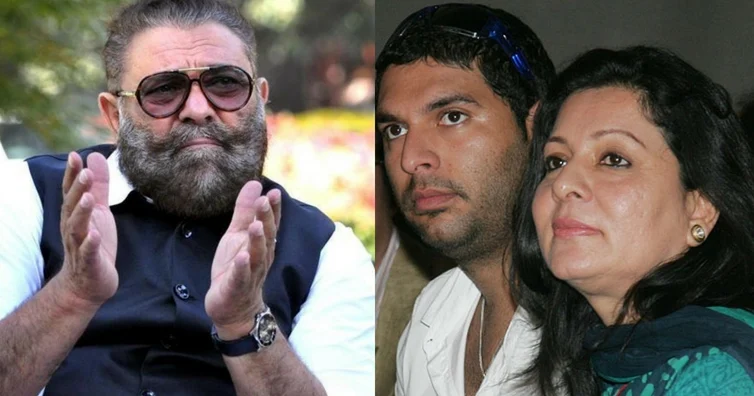 Yograj Singh second wife
---
5. Dinesh Kartik
The only active player in the list is Dinesh Kartik, The wicketkeeper-batsman from Chennai made his debut way back in 2004, although he had many ups and downs in his career. Kartik was dropped from the team in 2007 and made very rare appearances since. Even though he was a decent batsman and fairly good wicketkeeping skills, he was unfortunate to compete with MS Dhoni, a stalwart in his stature. However, he was a reserve wicketkeeper for all formats of the game. He went on to become the captain of Kolkata Knight Riders in 2018 replacing Gautam Gambhir. He has 150 international matches under his belt for Team India.
Similar to his professional career, his personal life has been a roller coaster ride. Kartik married his childhood crush, Nikita Vanjara in 2007. She later had an affair with a fellow teammate of Kartik which became the reason for their separation in 2012. Later, Kartik got involved with a Dipika Pallikal, a national level squash player. The two tied the know in 2015.
Dinesh Karthik first wife Nikita Vanjara
Dinesh Karthik second wife Dipika Pallikal