Most man of the match awards in T20I
Updated on: Sep 9, 2022 9:34 am IST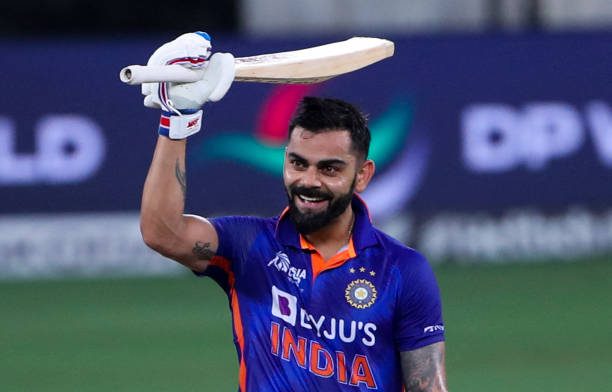 T20 is certainly one of the most popular cricketing formats; that is loved by many and hated by few. Nevertheless, the platform is the future of world cricket and will soon take over. With the introduction of the Indian Premier League in white ball cricket, the boom in the T20 format is massive.

Virat Kohli recently scored his 71st century and was also announced as the MOM in game against Afghanistan! But have you ever wondered which players in the world had won Most man of the match awards in T20I?
| | |
| --- | --- |
| Player | MOM Awards |
| Virat Kohli | 13 |
| Mohammad Nabi | 13 |
| Rohit Sharma | 11 |
| Shahid Afridi | 11 |
| Mohammad Hafeez | 11 |
1. Virat Kohli
Considered a GOAT, Virat Kohli is among the world's best players. The right-handed batter had played 104 international games, where the veteran had scored 3584 with the highest individual score of 122. In his overall T20 career, Kohli had won 13 men of the match awards, most by any. We expect him to win more in the future.
2. Mohammad Nabi
Leading Afghanistan, Mohammad Nabi was unable to perform at his best, but the right-handed bowling all-rounder is the reason why Afghanistan cricket is booming these days. Nabi has played 100 T20I, where the Afghani veteran scored 1647 runs and 83 wickets with an average of 27.88. Nabi, to date, had also won 13 man of matches.
3. Rohit Sharma
Ranking at number three, we can't keep this veteran away from any of our lists. Yes, we are speaking about Rohit Sharma. Sharma is one of the best players in the world and is now India's leading team. Sharma, in his T20 career, had won 11 man of the match, and the veteran scored 3620 in his 136 International presence.

4. Shahid Afridi
Boom Boom Shahid Afridi is now retired from international cricket, but one cannot deny that Afridi once single-handedly dominated world cricket. In his cricketing career, Afridi had played 99 T20I, and the veteran his T20 career had won 11 MOM awards.
5. Mohammad Hafeez
Considered a dark horse, Mohammad Hafeez's contribution to Pakistan cricket is immensely appreciated. With his presence, Hafeez helped Pakistan win several international matches, where the veteran received 11 man of Match awards. In his T20 career, Hafeez scored 2514 runs and picked 61 wickets.